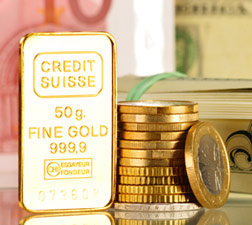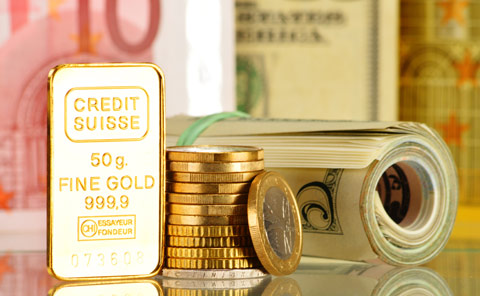 More and more Americans are realizing that financial markets may not be as stable as the government has made them out to be. And when people lose confidence in traditional investment vehicles like stocks and bonds, capital flees to the historical asset of last resort: gold.
When people are scared about the economy and financial markets, they rush to gold. Boy, were they worried in recent months.

U.S. demand for gold bars and coins surged 207% during the third quarter, the World Gold Council said on Thursday.

The skyrocketing demand signaled a level of interest in gold investment "not seen since the global financial crisis," the group said.

The U.S. Mint backs up that assessment. It said gold Eagle coin sales surged to nearly 400,000 ounces last quarter, the highest level in more than five years.
In August Money Metals Exchange, one of the largest gold and silver bullion dealers in the country, warned demand was so significant that the whole supply chain could be cleaned out as falling prices led to scores of mining companies either cutting costs or ceasing operations altogether. Money Metals reported a 365% increase in first-time customers during the height of financial instability earlier this year.
Even some of the world's most well known investors like George Soros and Carl Icahn have been rushing into the gold sector at full steam.
What's most notable about this year's panic buying is that the official market prices for gold and its counterpart silver have actually fallen. According to Keith Neumeyer, the CEO of silver producer First Majestic Silver and Chairman of precious metals holding company First Mining Finance, the entire paper market is being manipulated by a small concentration of players who have been suppressing the price on a global scale. In an open letter to the Commodities Futures Trading Commission in June Neumeyer warned that real producers and consumers were not being represented by the prices reflected on exchanges.
The opposing view, according to mainstream financial pundits, is that gold prices have fallen because the economy is recovering:
The problem for gold bugs is that the U.S. economy looks like it's been able to mostly weather the global storm. September was a blockbuster month for job growth, with 271,000 jobs being added.
A recent look at corporate earnings from mega retailers like Walmart and Nordstrom's, however, suggests the economy has done anything but weather the financial storm that started in 2008. Moreover, the statistics cited by CNN fail to mention the jobs being created are low-wage. Couple that with the fact that consumers are rapidly tapping out their credit availability and we could well be on the cusp of another market collapse on the order of 2008 or worse.
And as CNN notes, that is exactly the kind of environment that bodes well for precious metals:
"For gold demand to keep rising, we're going to need to have pretty violent markets," Courtney said.
If you are one who believes that financial markets are stable and the economy has recovered, then gold should continue to lose value.
But in the off-chance that the official statistics are wrong, we can fully expect a massive inflow of investment into precious metals as market turmoil takes hold.
Time and again we have seen what happens during market violence and volatility. Investors shun traditional investment for physical assets, namely gold and silver, because the price has never gone to zero. Well known forecaster Gerald Celente explains the trend:
We're forecasting a rapid rise in gold prices as speculators and survivors place their bets on safe haven assets… whether it's gold or silver.

…

What we're saying is… it's going to go beyond the level it hit at the high in 2011 and start pumping way above $2,000 an ounce.
If markets do collapse again we can fully expect that Americans and global investors who lose confidence in their government's ability to manage the crisis will swarm into gold just as they have done following similar panics over the last several decades.
Also Read:
A Step-By-Step Guide To Prepare For Economic Collapse
Global Trend Forecaster Gerald Celente On $20,000 Gold: "Here's What We're Forecasting…"
Russia and China 'Furiously' Buying Up Gold As "a Global Currency Crisis – Albeit Unstated – is Underway"
Soros, Icahn and Major New Players Rushing Into the Gold Sector: "Things Are In The Works As We Speak"
Shock Report: China Dumps Half a Trillion Dollars: "Something Is Very, Very Wrong"