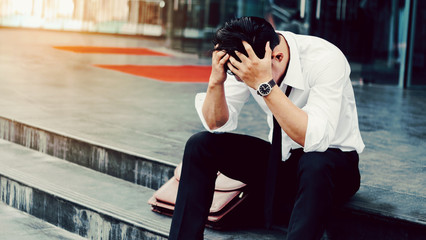 Americans have become increasingly dependent on debt while at the same time suffering from record high rates of chronic depression. But they probably have a lot to do with each other – perhaps more than we originally thought.
In 2018, 36% of Americans admitted to losing sleep over money concerns. That number feels low, as 78% of Americans live paycheck to paycheck with only a handful of those having any kind of emergency fund in place to protect them from a job loss or recession. And a recent analysis says that people who suffer from mental health issues are three-and-a-half times more likely to be in "problem debt" than those without such conditions, analysis suggests.
This link between poor mental health and poor financial health was even stronger for certain conditions such as bipolar disorder and depression, the Money and Mental Health Policy Institute said, according to the BBC.  It said those with Obsessive Compulsive Disorder (OCD) were six times more likely to have serious money troubles.
The institute analyzed data from the Adult Psychiatric Morbidity Survey, which had responses from 7,500 people in England. This revealed an estimated 1.5 million people were struggling with mental health and debt issues at the same time. Those surveyed admitted to using credit and borrowing money to buy things that made them temporarily happy if they were stressed or felt depressed.
This is a cyclical problem too. As people spiral into a depressed mental state, they tend to spend more money to alleviate those pressures. And those who use debt and get to the point of having "problem debt" or living paycheck to paycheck are more likely to descend into a state of mental disarray. It's a vicious "Catch 22."
"When you're struggling with your mental health it can be much harder to stay in work or manage your spending, while being in debt can cause huge stress and anxiety – so the two issues feed off each other, creating a vicious cycle which can destroy lives," said Helen Undy the institute's chief executive. "Yet despite how connected these problems are, financial services rarely think about our mental health, and mental health services rarely consider what is happening with our money."
If you can't be bothered to get your finances in order to protect yourself from the impending debt-based system's collapse, consider doing for your own mental health.