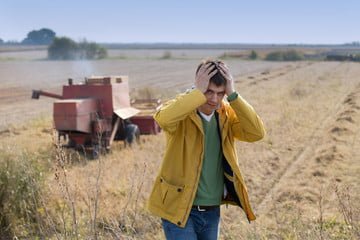 The United States' agricultural secretary said that American farmers are the casualties in the trade war with China. "You can't pay the bills with patriotism," Sonny Perdue said of the struggles facing farmers stuck in the crossfire of tariffs.
Farmers are struggling with flooding and concerning weather conditions this year which are magnifying their financial problems. American farmers have also been grappling with bankruptcies and suicides and now all of that is compounded with the introduction of the economically disastrous trade war.
In an interview yesterday, Perdue acknowledged that farmers are taking most of the proverbial shots fired in this trade war. "I think they are one of the casualties with trade disruption, yes," Perdue told CNN according to NBC News. "We knew going in that when you flew the penalty flag on China, the retaliation, if it came, would be against the farmer."  The real question then, is why were people not speaking out against the damages they knew would happen?
"I've told the president — and the president understands — you can't pay the bills with patriotism," Perdue told CNN. "We know that and certainly he knows that. That's why he's trying to supplement the damage they're having from trade disruptions with market facilitation." But all reports indicate that not only is the "market facilitation" or bailout not enough, but it's also only benefiting those with political connections.  Not many small-town farmers are feeling any relief.
The Trump administration last month unveiled a $16 billion aid package for farmers to offset losses from the 10-month trade war with China. Payment rates to farmers would be determined by where they farm rather than what crops they grow which is even more horrifying considering China's retaliatory ban on importing soybeans from the U.S.  The government is doing far more damage than they are good with the trade war.
The U.S. farmers are now seeing soybeans rot in storage thanks to the trade war.  At one time, China imported 60% of the soybeans grown in the U.S.  That's all changed and unfortunately, far too many patriotic Americans are defending this devastation done to our farmers instead of looking past party politics.