This commentary on America's dependency has been generously contributed by Rory at The Daily Coin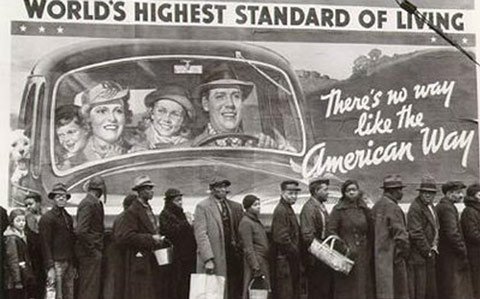 Most of my working career has been in food and more specifically, high-end retail food; think Dean & DeLuca. The customer base has always been educated and financially well-to-do. After a "revelation" in early 2000 I decided that I needed to put my skill set to use in another industry. I found myself working in an office with the masses. Less educated, less well-off and one thing that particularly stands out, no self-respect. How can I possibly respect you when I don't respect myself? Impossible. YOU don't stand a chance.
After dealing with this toxic environment for several years I decided to get back into retail food. Out of the frying pan, into the fire! OMG! The masses are now on both sides of the counter. The impact of 44 million people on food stamps, as of September 2013, is hard to imagine if you are not in retail food.
The spike in business beginning on the 3rd of each month is truly astounding. By the 10th of the month the business begins to normalize and by the 22nd the ship is sinking. When there is a holiday in the month we experience a slightly different flow of business. Depending on the nature of the holiday and when it hits the calendar the flow of business changes accordingly. There is always the spike from the 3rd through 7th as the pantry has run dry. But when the holiday rolls around people have saved their position in the soup line in order to "celebrate" the event appropriately. Remember, not only are the working people of this country putting food on the table, we are also funding items like, lottery tickets, cigarettes, alcohol and everything else that is non-food as a lot people are issued a "cash card" in addition to the ticket for the soup line (EBT card). The state of Connecticut has a handy website that spells everything out, in detail, on how to get cash. Awesome!
Listen, I am not some heartless, soulless butt-head. If you need assistance I will be happy to help. My wife and I budget, every month, a significant amount of resources to purchase food and donate to the local rescue mission. I would encourage each of you to do the same. If you have a drug addict, alcoholic or a person with another type of illness in your family, odds are, they have reached out to a rescue mission at some point. It is very common and the programs they offer are designed to help people that actually want help. The people that I am referring to are the ones that are sucking on the teet of the system that you and I have to pay their way with our labor. Our labor is stolen, through taxes, and handed over to someone that neither deserves it or that I want to have it. I would love to sit around and read, visit friends and family all day, but I respect my life and I respect my community, so I earn my keep.
Now that we have a significant portion of the country standing in the soup line, and millions more that we pay directly through government jobs how do we get out of this mess? Tax payer funded "jobs" exist on three levels of government, local, state and federal. The working people pay for them all.
When you combine the number of people that receive their daily bread, from tax payer funds, with the number of people who work for government I dare say it will be impossible to have an election that ever removes the corrupt from office. Who is going to vote against their pay check or the food on their table?
Sadly, it appears, the soup line is here to stay.
Visit The Daily Coin for more news and commentary. Follow The Daily Coin Youtube Channel for regularly updated videos.