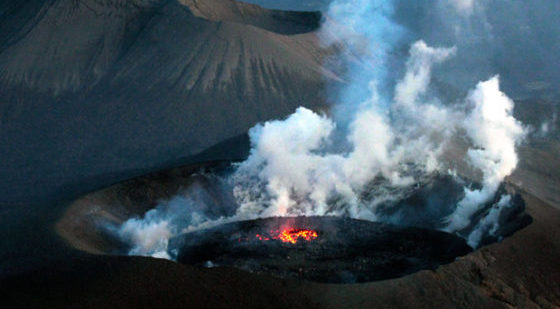 Powerful eruptions at a volcano in southern Japan spewed ash thousands of feet into the air on Wednesday as authorities warned locals not to approach the mountain. Shinmoedake volcano has erupted several times in violent explosions recently.
The Shinmoedake volcano, located on Japan's southernmost main island, Kyushu, has been bubbling and rumbling since last week. The entrance to the volcano was closed and monitoring increased last week before it finally began shooting ash and smoke into the sky on Tuesday.
According to Channel News Asia, "The plume reached the height of 3,000 meters (9,800 feet) for the first time since Apr 3, 2011," following a total of 29 eruptions at Mount Shinmoedake, Japan's weather agency said in a statement.  People have also been ordered to stay away from the volcano as major ash deposits spread from the crater, the agency said.
The volcano, which featured in the 1967 James Bond film "You Only Live Twice," has been grumbling since last Thursday. Footage captured by the Meteorological Agency showed lava and thick grey smoke rising from the mountain around midnight on Wednesday.
The volcano also produced so-called "explosive" eruptions, which also featured air blasts. This volcanoes eruption doesn't appear to be triggering fear in the masses of a more violent "Ring of Fire," but it's nonetheless significant geologically.  Japan, has scores of active volcanoes and sits on the so-called Pacific "Ring of Fire" where a large proportion of the world's earthquakes and volcanic eruptions are recorded.
There were no reports of injuries or property damage, but Newsweek reported that eruptions were expected to continue and the risk of flying rocks and pyroclastic flows were possible.