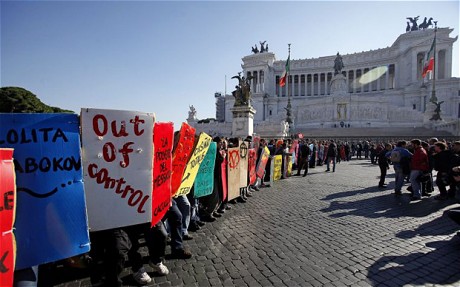 Amid political turmoil and higher borrowing cost, Italy's economy officially fell into recession at the end of 2018. Most economists are also saying that during the next global depression, governments won't be able to save anyone.
Rendered useless, the pressure is on the government in Italy to "fix" a recession caused by the government. The private sector never causes recessions and depressions, however, governments and their policies are responsible for both. Italy's output shrank 0.2 percent in the three months through December, following a 0.1 percent decline in the previous quarter, statistics agency Istat said Thursday.
While the recession may prove short-lived, the latest bad news is likely to test market confidence in the government's expansive program for 2019, reported Bloomberg. "The growth forecasts on which the budget was based have already been blown out of the water and euro-zone growth continues to weaken," said James Athey, a portfolio manager at Aberdeen Standard Investments in London. "Italy is going to have to face up to some real problems."
This was a foreseeable event, as Italy's economy has been stumbling in recent years.  Many didn't want to see the signs, or perhaps they chose to ignore them. Because the government will be rendered completely useless and incompetent during the next major financial crisis, it's important to learn to rely on yourself.
Now is a good time to prepare yourself and your family for a future recession in the United States. The gravy train will not last forever and when the everything bubble finally bursts, you'll want to ensure you turn a catastrophe into an inconvenience.  There are many resources out there to help anyone who is struggling with where or how to begin to prepare their personal finances for such an event. Look for a financial coach in your area who could help guide you through getting out of debt and saving money.
https://www.shtfplan.com/headline-news/how-to-best-prepare-yourself-for-the-coming-financial-crisis_06282018
Another great resource is the Prepper's Blueprint, a book that will detail the steps needed to prepare for any disaster including a financial one.
"If we have learned one thing studying the history of disasters, it is this: those who are prepared have a better chance at survival than those who are not." –Tess Pennington, The Prepper's Blueprint