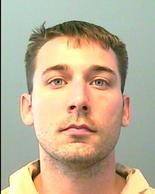 Brian Aitken
Early this month we reported on the story of Brian Aitken, who was sentenced to seven years in prison for gun possession violations in New Jersey. You may remember that Mr. Aitken was moving from one residence to another when he was arrested for having legally purchased, unloaded and stored handguns in his trunk:
In the Garden State, Aitken was required to have a purchaser's permit from New Jersey to own the guns and a carry permit to have them in his car.

He also was charged with having "large capacity" magazines and hollow-point bullets, which one state gun-control advocate found troubling.
They gave Mr. Aitken seven years for this victimless crime. At the time, we were outraged by the sentence:
Mr. Aitkens should not have been arrested or tried in the first place. Second, the fact that he was given seven years for this victimless "crime" is a travesty and afront to the 8th Amendment of the US Constitution, which is supposed to protect Americans against excessive cruel and unusual punishments.

Can anyone rightly argue that this punishment is not excessive, unusual, or cruel? Then again, given our modern day justice system, this doesn't seem to be too unusual.

While innocent Americans, convicted of victimless crimes, are given excessive prison sentences for nothing, Wall Street bankers responsible for the destruction of our economic system and the lives of millions are not only not convicted, they're rarely, if ever, even indicted.
Good news from New Jersey today – as we learn that Brian Aitkens has had his prison sentence commuted to time served by order of Governor Chris Christie.
Brian Aitken, who was convicted of illegally possessing three handguns he had legally purchased in Colorado, will be out of prison in time for Christmas.

Gov. Chris Christie commuted Aitken's sentence Monday, from seven years to time served, according to an order signed by the governor. It was Christie's first commutation since taking office almost a year ago.

"We are overjoyed at the news," his younger brother Robert Aitken said in an e-mail. "It's been an extremely emotional time and we all had our own doubts at one time or another I'm sure. I was hoping for the best but preparing for the worst — for this to be the first battle of a long war to get him out of jail."
Mr. Aitken got lucky in our view. His personal story happened across the desk of the governor, but there are likely tens of thousands, perhaps millions of individuals sitting in prisons across America for victimless crimes.
And, while it is great that Mr. Aitken is no longer in prison, the idea that his prison sentence was commuted as opposed to a full pardon is somewhat troubling. Clearly, Mr. Aitken's Constitutional protections were violated – at a minimum, the 2nd and 8th amendments. Aitken served four months of his life in prison – four months he will never get back – for harming no one.
We can only speculate about Governor Christie's motivations in this particular instance. Did he commute Mr. Aitken's sentence because he believed in compassion and justice? Or, is this a political move designed to increase his popularity among gun owners for a possible 2012 Presidential bid?
Whatever the case, at least one man can go free. If the Governor seeks true justice and compassion, perhaps he'll spend some time looking at other victimless crimes in New Jersey and free others who have been unjustly imprisoned.
Hat tip Anthony and Commander Zero