This article was originally published by Matt Agorist at The Free Thought Project. 
EDITOR'S NOTE: It is time to start questioning ANYONE who is still a law enFORCEment officer of any kind. It's beyond immoral what these hired teeth of the ruling class are doing to their fellow human beings in exchange for a paycheck.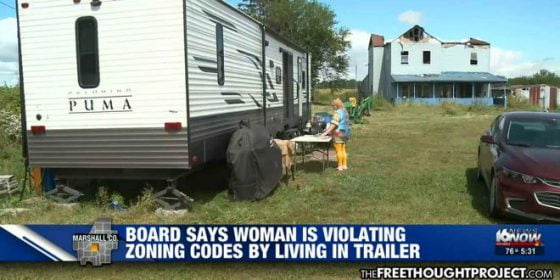 Imagine for a moment that your home that you've lived in for decades caught fire and your belongings and irreplaceable family heirlooms are gone forever. Sadly, this is a reality for nearly 400,000 Americans every year and Suzanne Afolabi became one of them in May. Unfortunately, because the government does what government does, Afolabi's house burning down was only the beginning of her nightmare.
After her family's house burned down in May, her insurance company provided her with an RV that she could live in on her property until her home was rebuilt. She, her husband, and their grandson lived in the RV while the home was being repaired — that is, until a neighbor complained.
"We're just temporary out here in this camper it's not permanent until we get the house built," Afolabi told WNDU.
However, when an apparently heartless and vindictive neighbor reported Afolabi's RV — which was set up on her own property — to the local authorities, the government turned the family's bad dream into a nightmare.
"He came out and told me that I couldn't be here," Afolabi said of the zoning board inspector who told her she had to move the RV off of her own property. However, there was a glimmer of hope when the zoning tyrant told her that she could get a variance on the RV and it would be no problem. But when she asked for one, the board refused to grant it.
When WNDU reached out to the zoning board to confirm this asininity, they unapologetically responded by telling the reporter that the trailer is actually a recreational vehicle (RV) and cannot be a permanent home due to zoning codes — despite the fact that it is not a permanent home.
Afolabi said the stress of being forced to move her RV off her property has since caused her health problems, saying she has "Stomach flu from being upset, literally my hair has really grayed from this. I've had depression. I mean you lose a home you've lived in for 56 years."
Adding to the insidious nature of the government carrying out the sick desires of Afolabi's heartless neighbor is the fact that there are campers in the yards of other residents but she says the zoning board is targeting her specifically.
"You've got to be fair. If you're going to do something do it for everybody, and it is a small town which in some ways are good but in other ways, we've got to…our town councils, our zoning boards, they have to quit favoritism and they have to stop taking rumor. They need to find fact," Afolabi says.
Afolabi now has a hearing on Oct 11 to learn her final fate of whether or not she can live in a temporary home on her own property while she rebuilds the house she grew up in — as if this should even be an issue for others to decide.
If you'd like to help Afolabi, there is a group in her town doing just that, today. 
The Libertarian Party of Marshall County is hosting the Property Rights Rally Support For Suzanne Afolabi and Family in Bourbon, IN on Wednesday September 29th. I am asking you to attend and to encourage others to attend so we can send a clear message to the local government that this violation of property rights and cold treatment of people recovering from a tragedy will not be tolerated.

Even Details – Property Rights Rally Support For Suzanne Afolabi and Family Wednesday September 29th at 6pm ET 417 E Sunset Dr, Bourbon, IN 46504