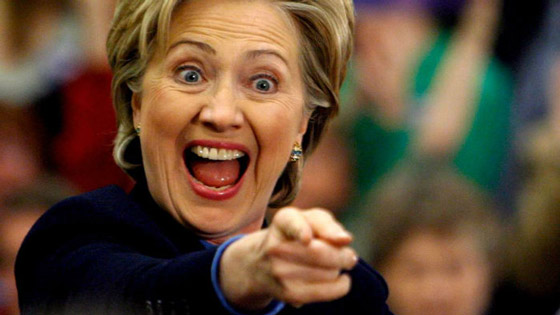 Just hours after responding to a report that revealed that she had protected a member of her campaign who was accused of repeated sexual harassment, failed presidential candidate Hillary Clinton appeared in a bizarre video "shout out" to feminist activists she claims to support.
The former Secretary of State made the strange comments in a video posted to the Twitter account of Huffington Post commentator Alex Mohajer.
"Hey everyone, I just wanted to say thanks," Clinton can be heard saying as the video zooms in on her face. "Thank you for your feminism, for your activism, and all I can hope if you keep up the really important good work."
As the video continues someone can be heard shouting in the background, "activist b***hes supporting b***hes before Clinton apparently decided to repeat it.
"And let me just say, this is directed to the activist b***hes supporting b***hes, so let's go," Hillary laughably stated.
A message "to all the activist bitches supporting bitches" by the inimitable @HillaryClinton. pic.twitter.com/fnUfsJnUN4

— Alex Mohajer (@AlexMohajer) January 27, 2018
In a follow up tweet about his now viral post, Mohajer claimed that activist b***hes supporting b***hes is actually the name of a hard-left feminist group that was asking for and got a shout out from Clinton.
Regardless the video is extremely weird, especially when you consider that it was published just hours after Clinton responded to a highly sourced report that detailed her protection of a serial sexual harasser.
"The report revealed the disgusting allegations against Clinton faith adviser Burns Strider and the shocking fact that after his young subordinate came forward, Clinton herself apparently stepped in to keep him on her campaign while moving his alleged victim elsewhere," I wrote in a write up about the allegations for SHTFplan.com
"Not only did Clinton herself protect Strider, her own staff, who were completely aware of his conduct, refused to even speak about it for almost 10 years in order to protect Hillary and her political ambitions."
In true Clinton fashion, Hillary responded to the allegations by flat out lying, ludicrously claiming that she did the EXACT OPPOSITE of what the New York Times report alleges.
A story appeared today about something that happened in 2008. I was dismayed when it occurred, but was heartened the young woman came forward, was heard, and had her concerns taken seriously and addressed.

— Hillary Clinton (@HillaryClinton) January 27, 2018
I called her today to tell her how proud I am of her and to make sure she knows what all women should: we deserve to be heard.

— Hillary Clinton (@HillaryClinton) January 27, 2018
Keep in mind, Clinton specifically protected the woman's abuser and is now expecting the American people to believe that she was "heartened" by the woman coming forward in the first place?!
Unbelievable.
Weinstein's victims were also heard — by legions of PIs and lawyers. Nassar's victims were also heard — by incompetent, evil bureaucrats. Being "heard" is not enough. You heard, and you moved *her* https://t.co/idqUkx0yye

— Tiana Lowe (@TianaTheFirst) January 27, 2018