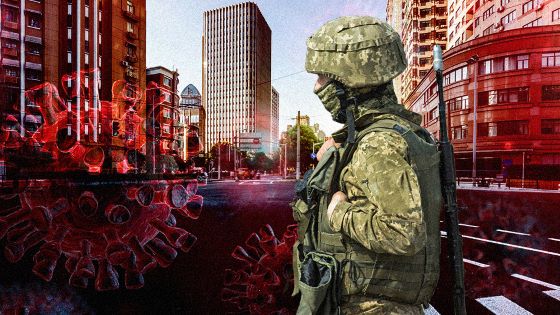 According to the Association of American Physicians and Surgeons, there is something more tragic than COVID-19, and that's the mainstream media and the government's response to it. What is more concerning than the virus itself is our un-American collective response to it.
So far, the fear-mongering and the government's response has been nothing less than tragic. If it is not seen for what it is, it very well may mean the end of the American experiment and will lead to a new totalitarianism that will harm and persecute future generations. So let's reveal the fact-based case for giving Americans their lives and livelihoods back:
Coronaviruses have been around for quite some time already, and most of us have already contacted them.
These viruses rarely cause death in humans; they are often cited as the cause of common colds.  COVID-19 is for the most part acting in the same way but with a notable exception – it can be deadly in the elderly and the immunocompromised. It hits these populations fast and hard.   Nonetheless, even in Italy, where the virus has killed thousands, most of those (78.3%) over the age of 90 recovered.  This is different from influenza epidemics in 1918 or 2010; those epidemics involved all ages.  This ability for younger individuals to be safe from serious illness has important implications for treating the virus and will be discussed below.  Ultraviolet light can be a significant treatment for the virus as UV light damages viral DNA and RNA and therefore kill it. –Association of American Physicians and Surgeons
So we have been committing economic and societal suicide to control the spread of a virus that even medical professionals are now saying is still not going to be "worse than the flu" for the vast majority of human beings.  In fact, the AAPS proceeds to bade their article in facts, by layin out the statistics that no one wants to listen to.
Of all the deaths reported in the United States as of today, only 2 have been in patients under 18 years of age.  Currently, our death rate (deaths/confirmed cases) has been as high as 2.3% and as low as 1.1% over the past 2 weeks.  The President's COVID-19 Taskforce estimated that as many as 1/1000 New Yorkers may have the virus.  If this were projected to the entire United States (population 328,239,523), then the total number of COVID-19 would be approximately 328,239 and deaths from COVID-19 (1.8% death rate) at 5,909.  Even if this ends up being wrong by 1,000 percent, the death rate would still be 59,000, i.e., within range of the estimates for influenza deaths.  You can look at it in another way.  98% of people who get COVID-19 fully recover!

As of today (March 29, 2020) there are 123,828 confirmed cases and 2229 deaths (1.8% death rate) from COVID-19 in the United States.  Compare that with the influenza estimates so far this year:  29,000 deaths!  And the flu season is not yet over, with the CDC estimating as many as 59,000 will die of influenza by May of this year.

The CDC estimates that influenza like illnesses and pneumonia accounted for on average 7.65% of total deaths during the 12th week of the year the last six years.  For the 12th week of 2020 the CDC estimates that percentage as 8.15%, but part of the reason for the increase is a noticeable decrease in the deaths by all other causes. On average 55,000 Americans died in the 12th week of the last six years. During the 12th week of 2020 40,000 American died. Who in the media is discussing this? –Association of American Physicians and Surgeons
The biggest problem is that the media told people to live in fear and be afraid and the government then made a command that the brainwashed fearful masses followed.  At this point, there may not be any limit to how much authoritarianism the American public will allow. Tyranny has set in and we all allowed it.
According to the AAPS, the only way to effectively combat the disease from a practical standpoint, not a fear-based one. Other than herd immunity, which would mean we'd have to be allowed to go about our business and get sick, is to shield those at high risk until the virus has run its course through the country.  Patients with significant underlying health conditions (cancer, lung disease, immune deficiency disorders) and those over the age of 65 should isolate themselves to the best of their abilities. But the rest of us need to be able to go about our lives just like we do during cold and flu season.
If we can learn anything from this epidemic is that mitigation efforts that destroy our economy were some of the biggest boondoggles every foisted on the American people.  Even worse, they aren't necessary.  We have better ways to combat this virus.

What can be done to end this epidemic?  The answer is herd immunity. Don't close schools – open them up!  Don't close universities – reopen them!  Let those under the age of 65 with no significant health problems go to work.  Their risk of death is very close to zero.   They become the wall that stops the virus.  Our current strategy of isolating these healthy people from the virus: a. is not working – the virus is still spreading and b. for those who theoretically may be shielded from the virus, they will get exposed later. –Association of American Physicians and Surgeons
The entire article can be read by clicking here, as well as on the links throughout the body of this article. 
This is a must-read for everyone.  We are killing ourselves and each other and doing far more harm than good by not allowing humanity to resume as normal and this is coming from the medical professionals looking into this virus.