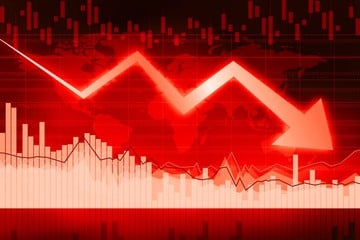 Many economists, bankers, and CEOs believe that the United States is already in a recession, and the Federal Reserve's likely interest rate cut this week won't help at all.  In fact, several analysts say that the only reason the economy is even "afloat" is because of consumer spending.
Greg Becker, the CEO of Silicon Valley Bank, took to pinpointing trade issues and a slowdown in global growth as root causes of an eventual downturn. He described the next recession as likely to be "a self-inflicted wound." "It'll be a perception-created recession," Becker said. As more people fear an economic pullback, they will "pause spending" and thus, ironically, create the recession they feared, he said. But people haven't paused their spending even in the face of reports of an upcoming recession.
Regardless of the state of the economy, consumer spending remains high and that's what's keeping the economy from an all-out crash, says a CIO. "I'm very sympathetic to the argument for a cut because in my opinion the manufacturing/trade side of the U.S. economy is in a recession and you can argue it's a global recession in those two areas, so it's really just the consumer that's keeping us afloat here," said  Peter Boockvar, CIO of Bleakley Advisory Group. "On the other hand, I'm of the opinion that a rate cut's not going to help."
https://www.shtfplan.com/headline-news/consumer-spending-spikes-in-march-but-credit-card-balances-are-at-all-time-highs_04302019
Patrick Byrne, the CEO of online retailer Overstock.com, sounded an ominous note for the several years ahead as well. "I think it will be bad," he said. "To be honest, I think that '08 was the hors d'oeuvres course," he said according to Fortune. Bryne, a longtime cryptocurrency enthusiast, compared what he anticipates will happen to the economy to what might happen to a bridge overloaded with too many vehicles. "It's a little bit like asking me there's a bridge that was designed to hold 20 cars passing over it at a time and there's now 100 going over it," Byrne said. "When's it going to break? When's it going to collapse? That's really your answer."
"I'm kind of shocked it's gone on this long," Byrne continued. "I think that we have deep, deep, structural, architectonic level problems in our economy that will surface."
Just stay prepared for an economic crash.  Keep your personal finances in good shape and you could easily weather the storm. It isn't a bad idea to have some gold or silver either. Preparing for an economic crash is perhaps the hardest scenario to plan for because you just never know what it's going to look like.