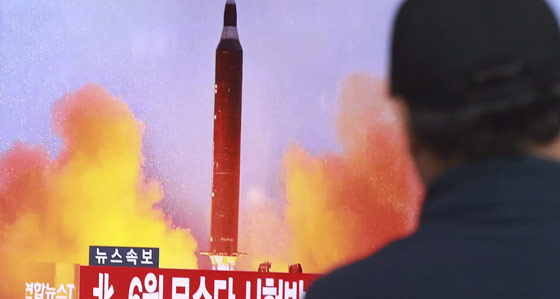 According to Reuters, Associated Press and other Western media agencies, a North Korean missile test on Tuesday "did not go off normally." The test, reportedly aimed in the direction of Japan, failed just seconds after launch according to U.S. Pacific Command:
"U.S. Pacific Command detected what we assess was a failed North Korean missile launch attempt… in the vicinity of Kalma," Commander Dave Benham, a spokesman for U.S. Pacific Command, said in a statement.

"A missile appears to have exploded within seconds of launch," Benham said, adding that work was being carried out on a more detailed assessment.
It was reported earlier this month by Zero Hedge that the Obama Administration was actively infiltrating North Korea's defense network and sabotaging their launches, which may explain why another North Korean missile test has crashed and burned:
Long before Kim Jong-Un launched his latest ballistic missile test in February, prompting an angry response from not only the US, Japan and various other countries, most notably China, which banned North Korean coal imports in retaliation and unleashed what may be a political crisis in Pyongyang, former president Barack Obama was already engaged in a cyberwar with North Korea.

According to the NYT, three years ago Obama ordered Pentagon officials to step up their cyber-strikes against North Korea's missile program in order to sabotage missile test launches in their opening seconds. That explains why shortly after various North Korean launches, a large number of the country's military rockets began to explode, veer off course, disintegrate in midair and plunge into the sea, as detailed here on various occasions.

While advocates of such efforts believe that targeted attacks have given American antimissile defenses a new edge and delayed by several years the day when North Korea will be able to threaten American cities with nuclear weapons launched atop intercontinental ballistic missiles, other experts have grown increasingly skeptical of the new approach, arguing that manufacturing errors, disgruntled insiders and sheer incompetence can also send missiles awry. In other words, something is causing the crashes, but US cyberspies is just one of the possible factors.
Though it's likely no information regarding such intervention in today's missile launch failure will be forthcoming, it should be clear that the Russians and Chinese aren't the only game in town when it comes to cyber warfare.
It's a war that pits nations against each other for dominance in cyberspace, and the United States, like other nations employing professional hackers as "cyber soldiers," sees it as a battlefield just like any other.

"It's like an operational domain: Sea, land, air, space, and cyber," Charlie Stadtlander, chief spokesperson for US Army Cyber Command, told Tech Insider. "It's a place where our presence exists. Cyber is a normal part of military operations and needs to be considered as such."
But U.S. Cyber Command and its army of soldiers may not be able to prevent every threat posed by Kim Jong Un's communist regime. Insiders have said that prior to leaving the White House President Obama warned President Trump of the dangers he would face with North Korea:
Those threats are far more resilient than many experts thought, The New York Times's reporting found, "and pose such a danger that Mr. Obama, as he left office, warned President Trump that they would likely be the most urgent problem he would confront."
If the news being reported is accurate, then it appears that Obama was right to warn Trump.
In just the last few weeks the North has launched a successful ballistic missile test in the direction of their archenemy Japan and outright declared that if even a single bullet is fired it would respond with a nuclear attack against the United States.
The Trump administration, in a major shift from Obama's policy of "strategic patience," has responded by preparing special operations teams to decapitate North Korean leadership in the event the conflict escalates.
And if recent comments from Secretary of State Rex Tillerson are any indication of what comes next, then there's a real chance that the North Korean cold war goes hot in the very near future:
Let me be very clear… the policy of strategic patience has ended… we are exploring a new range of diplomatic, security and economic measures… all options are on the table… North Korea must understand that the only path to a secure, economic prosperous future is to abandon its development of nuclear weapons, ballistic missiles and other weapons of mass destruction.
It may be time to check your disaster stockpiles, have a backup plan to get out of major cities and know how to quickly put on your CBRN gas mask and equipment in the event of a nuclear emergency.
---
Related: 
Who Would Launch A Nuclear Strike First – The United States Or North Korea?
This FDA Approved "Nuke Pill" Could Save Your Life
"Super EMP" Capable of Disabling Power Grid Across Lower 48 States
The Trigger: If This Ever Happens You Know You're Days Away From Nuclear War