We believe that this could turn out to be one of the most successful companies we've ever featured on these pages, so pay attention. In our opinion, it checks a wide range of items in several categories that both value and growth sectors look at, to our knowledge. In 2020, we profiled one company that has similar characteristics and whose share price appreciated by over 700% from IPO to year-end. Nothing guarantees by any means that this recipe will lead to the same dish, but I want to show you the stats and facts.
Keep in mind that you must do your homework and research on this thoroughly.
The company's name is NEXE Innovations (TSX-V: NEXE & US: NEXNF), and you may have never heard of it, just like most didn't hear about Starbucks' original branch in the city of Seattle, only learning about it after it spread and expanded across America and Europe. When Starbucks went public on June 26th, 1992, its shares were worth $0.34, split-adjusted. Today, the company's stock trades for over $100. I tell you this since what we're talking about is TAM, which stands for "Total Available Market." Starbucks shares have appreciated by 30,000% in 30 years!
The reason I point this out is not that I'm comparing the two, but because I want to highlight that selling coffee, which is a globally-recognized product and part of the culture in every country that I've ever visited (over 40 at this point), can be lucrative.
There aren't many high-margin beverages that are consumed daily, or even a few times per day; coffee is a unique consumer product. Before Apple Inc. launched its disruptive iPod Nano, which allowed hundreds of millions of music listeners to hear their favorite artists through a state-of-the-art device, Sony's or Panasonic's portable Discman were these massive contraptions that would look and feel ridiculous today. Apple's innovation was a CATEGORY KILLER, so to speak, which is a product that allows an established industry (music delivery) to leap to its next stage without taking away any of its benefits.
NEXE Innovations (TSX-V: NEXE & US: NEXNF) has been developing its technology for five years as a private company. Through the use of patents, intellectual property around their technology, automation, and 3D printing capabilities, they've been able to scientifically tackle one of the most important challenges of the modern world. Study and conduct thorough research!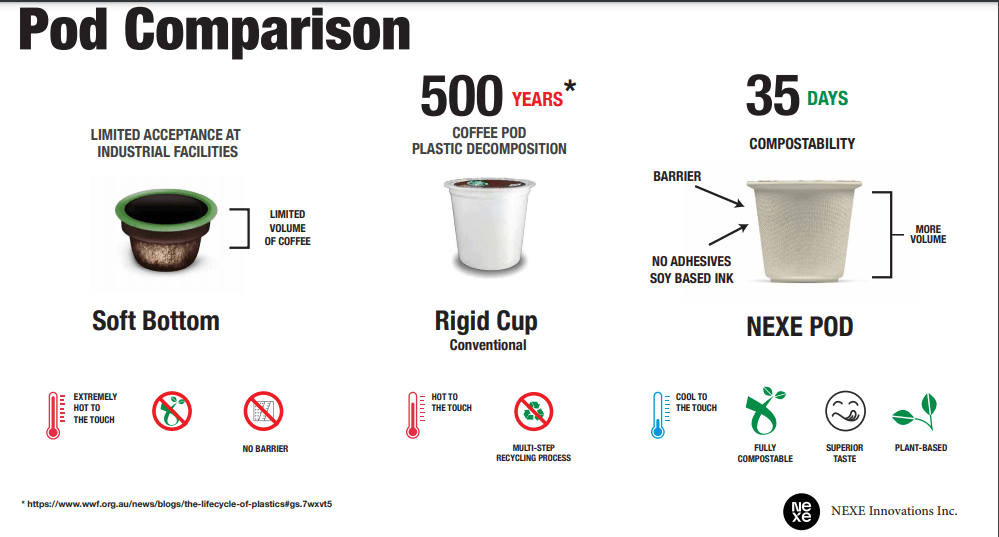 The NEXE coffee pods are fully-compostable and plant-based with no adhesives and the process of producing them is fully automated.
If you truly understand the value behind being able to begin mass-selling what could be the only fully-compostable coffee pod on planet Earth, as far as management is aware, the scope of this becomes instantly apparent. Five years and $35M have been spent to this point!
The trend towards making sure plastic products don't make it into our oceans is not only one that is fought by environmental movements on the fringes of society, but it's big business and carries with it significant financial benefits.
America is targeting ways to reduce carbon footprint drastically and invest in green industries. The implications for food and beverage producers will likely be profound because a pledge has been made to ensure that the U.S. agricultural sector achieves net-zero emissions. That's just the beginning. Legislation could be enacted requiring polluters to bear the full cost of their climate pollution. This is deadly serious and the EPA and Justice Department might be ordered to pursue these cases to the fullest extent of the law.
I'll cover several additional angles of this company's competitive advantages, including patented technologies, regulatory environment, first-mover lead, and the number of scientific studies behind their POD; right now, I want to go over the financials and valuation.
The company owns a fully customized 10,000-square-foot facility in Canada and is looking to expand into an additional 10,000-square-foot facility next door! The equipment layout and floor design, which I've seen with my own eyes, is worth more than $15M alone, per the company's CEO and co-founder.
In my 20 years of reviewing and assessing businesses, this is one of the most compelling business models I've ever come across.
Disclaimer/Disclosure Statement
Introduction
We are paid advertisers through any one or several of the following entities, which entities are controlled by the same owners and other owners in varying percentages: (a) Future Money Trends, LLC, (b) Gold Standard Media, LLC; Gold Standard Media, LLC, ShtfPlan.com, Wealth Research Group, LLC, Portfolio Wealth Global, LLC, Wallace Hill Partners, Ltd (hereafter collectively referred to as "we", "our", "us", or "FMT"). As advertisers, we are publishers of publicly disseminated information on behalf of our clients, publicly traded companies, or non-affiliate third party shareholders of various issuers. As reiterated below, do not base an investment decision on any of the contents of our Publications.
Conformity with Anti-Touting Statute – Section 17(b) of the Securities Act of 1933
We receive either monetary or securities compensation for our services in conformity with the anti-touting statute under the federal securities laws, Section 17(b) of the Securities Act of 1933, as amended ("Securities Act"), and requires publishers to provide full disclosure of their compensation, as follows:
Type of compensation (securities or cash) (if securities, whether common stock, preferred stock, warrants, or other type securities) received, or to be received (distinguish whether such compensation has been received or to be received and when).
Identify of the party who paid the compensation, including whether such party is the Issuer, a third-party shareholder, or any other person or entity.
Amount of securities or cash paid, and date paid or will be paid.
Additionally, the following must be disclosed:
If the compensation is in securities, whether the securities are restricted or unrestricted.
If a corporate entity is the publisher of the information, its control persons must be identified.
Identity of Person paying (Direct or Indirect) compensation to the stock promoter; and
If the Publisher is compensated by a third-party shareholder or corporate entity, the shareholder or control persons of the entity must be identified by his or her individual name.
Do Not Use Any Information in Our Publications to Make an Investment Decision
There is no information on our website or distributed otherwise that should be used as the basis for an investment decision.
What We are Not
We do not act, directly or indirectly, in the capacity of any of the following and you should not construe our activities as involving any of the following: (a) investment advisor; (b) broker dealer; (c) broker; (d) dealer; (e) stock recommender; (f) stock picker; (g) finder; (h) securities trading expert; (i) financial planner; (j) engaging in the offer and sale of securities; (k) securities analyst; (l) financial analyst; (m) providing price targets or buy or sell recommendations.
From Whom We Receive Compensation
We receive cash or stock consideration from Issuers or third-party shareholders. With respect to third party shareholders, please be advised that the SEC has interpreted compensation paid to an investor relations firm from Third Party Shareholders, is considered to have emanated from the Issuer itself. As such, any shares received from a Third Party Shareholder under such circumstances must comply with the applicable holding periods under Rule 144 of the Securities Act since such stock issuances would be considered an issuance by the Issuer and therefore restricted.
Conflicts of Interest
Our activities involve multiple potential and/or actual conflicts of interest, since we receive monetary or securities compensation in the very securities we are promoting, and shortly after we receive the securities compensation, we may promote the securities and sell the securities. The third party shareholder from which we receive compensation also has an actual conflict of interest since he or she or it is paying us securities compensation for promotion services and such non-affiliate third party shareholder may sell other shares held while we are promoting the issuer that issues the stock held by such third party shareholder.
Our Trading
Note the following regarding our trading activities, including securities compensation we receive:
We routinely sell the securities before, during and after its dissemination of the Publication.
Selling of our securities may result in may result in substantial profits to us.
Our buying and selling activities may result in increases in the total trading volume of the securities, which may prove advantageous to our selling activities.
Our buying and selling activities may result in the investing public having to sell at lower trading process, especially if we are selling material amounts of shares.
No Warranties
There are no implied or express warranties regarding the contents of our Publications.
Distribution of the Information in our Publications
The contents of each publication may be distributed, as follows:
Through our Publications as identified above.
Sent directly to your email
Sent to addresses on email lists
YouTube Channels.
Re-published by our entity, Gold Standard Media, and sent to select email lists and YouTube Channels booked and scheduled by Gold Standard Media
Mining Disclosure
The Company's publications often pertain to gold and mining stocks, which discuss a direct relationship between the price of gold or silver and the stock price of a gold or silver mining stock. We discuss with respect to various issuers that there is a relationship between the price of gold or silver to the stock price of a gold or silver mining stock, i.e. that the higher the price of gold or silver, the higher the price of the stock. You should use extreme caution in adopting any such conclusions, because such statements do not account for any of the following factors:
The stage of mining that the public company is engaged in, i.e. whether they are simply an exploration company and have not entered actual mining operations.
Whether the then current financial condition of the mining company permits such company to have the necessary capital to conduct exploration and/or mining activities.
The need for financing for exploration and/or mining activities and the possible inability to obtain such financing at all or on acceptable terms or that does not cause significant dilution to shareholders' interests.
Estimates of proven and probable reserves and mineralized material are subject to significant uncertainty, including a determination that the estimated reserves of mineralized material become uneconomical.
Status of the worldwide economy
Development of mineral properties is inherently risky and could lead to unproductive properties and is subject to the ability of the mining operator obtaining the necessary capital investments
Whether additional exploration is required if reserves are not located on already acquired properties, which would negatively impact the financial condition of such gold or silver company or properties or mining operations
Failure to comply with regulatory requirements
Whether the public company is a development stage company
Mining operations are subject to the risks of increasing operating and capital risks that adversely affect results of operations
Potential delays, cost overruns, shortages of material or labor, construction defects
Readers should view statements that state that stock prices will be track gold or silver prices with extreme caution and do their research into the Issuer's or operator's financial performance, estimated exploration, extraction and production costs, financial condition, stage of exploration and mining, whether its operations are contingent upon financing. Mining operations are subject to innumerable risks and high rates of failure and create a direct relationship between the price of gold or silver and a gold or silver public company in the absence of other factors is misleading, i.e. stage of exploration or mining, financial condition, all operations contingent on financing, high rate of failure of mining operations.

Accordingly, do not rely upon any claimed relationship between the price of gold and silver and the stock price of a gold and/or silver company, and conduct your own research using reliable sources.

Statements contained in our publications that discuss increases in stock prices of mining stocks over a specified period of time that we do designate reflects an arbitrary period of time and does not take into consideration the inherent and specific risk of mining ventures and possible price volatility of a mining stock. Therefore, these statements should not be relied upon. Do your own research from reliable sources. The foregoing also applies to statements in our publication regarding mining test results and their implications, and references to individuals or entities making significant investments in the companies being profiled. Conduct research from reliable sources, including public reports filed by the mining company with regulatory authorities.

Penny Stock Disclosure

Many of the securities we profile are considered penny stocks. Penny stocks inherently involve high risk and price volatility. You may lose your entire investment in any penny stock that you invest in. You should be acutely aware of the following information and risks inherent in any penny stock investment that you may make, including any issuer profiled on our websites or otherwise: (a) we receive monetary or securities compensation from persons that claim they are a non-affiliate shareholder or an issuer; however, we conduct no due diligence whatsoever to determine whether in fact they are a non-affiliate; (b) there is an inherent conflict of interest between our information dissemination services involving various issuers and our receipt of compensation from those same issuers; (c) we may buy and sell securities in the securities that we provide information dissemination services, which may cause significant volatility in the issuer's stock, price declines from our selling activities, permit us to make substantial profits while we are disseminating profiles or information about the issuer, yet may result in a diminished value to the stock for investors; (c) we conduct no due diligence on the content of our Publications; (d) Penny stocks are subject to the SEC's penny stock rules and subject broker-dealers to customer suitability rules and other requirements, which may lead to low volume in the securities and/or difficulties in selling the shares; (e) penny stocks are often thinly traded or have low trading volume, which may lead to difficulties in selling your securities and extreme price volatility; (f) many of the penny stocks we profile or provide information about are subject to intense competition, extreme regulatory oversight and inadequate financing to pursue their operational plan; (g) the issuer profiles and information we provide is wholly insufficient to formulate an investment decision and should not be used in any way as a basis for making an investment decision and, at the most, it should be used a starting point from which you conduct an in-depth investigation of the issuer from available public sources, such as www.sec.gov, www otcmarkets.com, www.sec.gov, yahoofinance.com, www.google.com and other available public sources as well as consulting with your financial professional, investment adviser, registered representative with a registered securities broker-dealer; (h) we urge you to conduct an in-depth investigation of the issuer from the above or other available sources, especially because we only present positive information, which is an insufficient basis to invest in any stock, yet alone a penny stock; accordingly, you should proceed with such investigation to determine, among other things, information pertaining to the issuer's financial condition, operations, business model, and risks involved in the issuer's business; (i) the issuers we profile may have negative signs on the otcmarkets.com website (i.e. Stop Sign, No Information, Limited Information, Caveat Emptor), which you should determine from entering the symbol of the stock profiled into the otcmarkets.com website; (j) you should determine whether the issuer we profile or provide information about is a development stage company, which is subject to the risks of a development stage company in a similar such business, including difficulties in obtaining financing for operations and future growth; (k) because we only present positive information regarding an issuer, ; you should conduct an in-depth investigation of any possible negative factors regarding such issuer; (l) our information is "as is" and you your use of the information is at your own risk and such information may change at any time and it is not based upon any verification or due diligence of the statements made; (m) we state that profiled stocks are consistent with future economic trends; however, future economic trends or analysis has its own limitations, including: (i) due to the complexity of economic analysis as well as the individual financial and operational characteristics of an individual issuer, such economic trends or predictions may amount to nothing more than speculation; (ii) consumers, producers, investors, borrowers, lenders and government may react in unforeseen ways and be affected by behavioral biases; (iii) human and social factors may outweigh future economic trends and predictions that we state may or will occur; (iv) clear cut economic predictions have their limitations in that they do not account for the fundamental uncertainty in economic life, as well as ordinary life; (v) economic trends may be disrupted by sudden jumps, disruptions or other factors that are not accounted for in such economic trends analysis; in other words, past or present data predicting future economic trends may become irrelevant in light of fully new circumstances and situations in which uncertainty becomes reality rather than of predictive economic quality; (vi) if the trends involves a single result, it ignores all other scenarios that may be crucial to make a decision in the event of various contingencies; (n) the information we disseminate about issuers contain forward looking statements, i.e. statements or discussions that constitute predictions, expectations, beliefs, plans, estimates, projections as indicated by such words as "expects", "will", "anticipates", "estimates; therefore, you should proceed with extreme caution in relying upon such statements and conduct a full investigation into any such forward looking statements; (o) forward looking statements are limited to the time period in which they are made and we do not undertake to update forward looking statements that may change at any time; and (p) we make statements in our profiles that an issuer's stock price has increased over a certain period of time; however, these statements only reflects an arbitrary period of time, and is of little or no predictive or analytical quality.

Compensation

On December 17th, 2020, in connection with our agreement with Nexe Innovations that was signed on November 18 twenty twenty, we received $350,000CAD to Gold Standard Media LLC. This was for a 12 month.agreement which will start on January 4th, 2021. Wallace Hill Partners LTD on November 19, 2020 purchased 1,100,000 common shares at CAD0.80 and 1,100,000 warrants with a price of CAD1.00 through a private placement.

[DISPLAY_ULTIMATE_SOCIAL_ICONS]