This article has been generously contributed for your reading pleasure by Silver Shield of Don't Tread on Me. You can be aware and prepared by simply joining the FREE Sons of Liberty Academy.
Editor's Note: Following up from yesterday's commentary on why A Repeat of the Great Depression is Our Best Case Scenario, Silver Shield outlines the eight specific reasons for why it's pretty much unavoidable at this point. When European sovereign debt collapsed in the late 1920's and early 1930's, the United States of America was a creditor nation, as opposed to today's distinction of being the largest debtor in the history of mankind. We had industry, agriculture and the world' premier work force – and we still ended up in a decade's long depressionary environment. Here is a diagram from Martin Armstrong that gives you an idea of then vs. now: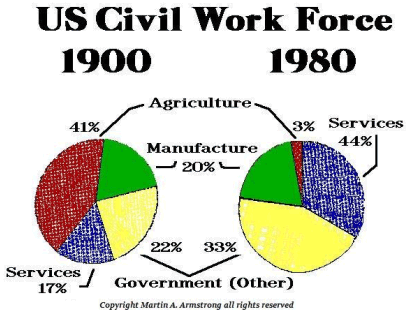 The diagram above covers the time period only through 1980. You can bet manufacturing has steadily declined since then, while that yellow pie piece has increased even more (and continues to do so on an almost daily basis). We are a consumptive, rather than a productive, economy now. And our consumption abilities have been drastically reduced over the last several years due to falling wages, lost jobs, maxed out credit and taxes. Take special note of the pictures included below, and consider what you would do if it just so happens that Don't Tread on Me's Silver Shield, we here at SHTFplan and the many other alternative news, commentary and analysis web sites are right in our assessments. It is our belief that the it is the hitting fan right now. Prepare your mind, body, and spirit for what is to come.
---
8 Reasons Why The Great Depression Is The Best Case Scenario
by Silver Shield
We are on the verge a collapse far greater than the Great Depression and we are far less capable of taking car of ourselves. Our way of life is dangerously dependent upon the ability for us to create unlimited amount of debt and the willingness of others to buy that debt.  This way of life has a mathematically inevitable end and things that cannot go on forever, won't.
Let us look a 8 reasons why the Great Depression is the best case scenario and also look at how difficult the Depression was for people who were far more prepared to deal with a harsh world.
Back during the Depression most of America could feed themselves with farming, now we only know corporate frankenfood.
Back then people only knew of real wealth, now we think the digits in our brokerage account in wealth.
Back then people had a strong family on community support systems, now we live little lives of narcissism.
Back then people had a strong spiritual strength, now we have chemically induced denial.
Back then people were of fit body and strong mind, now we are obese and willfully ignorant.
Back then people had a classical education to help them figure things out, now we wait for answers.
Back then people had a real economy, now we have a consumer/debt economy.
Back then people did physical activity for fun, now we have entertainment that turns us in to mental and physical mush.
I would like you to take a few seconds to look at the faces of shame in these photos from the Great Depression. Look at the face of these people and ask yourself, do you think that if given the chance to do something different than the path they chose before the depression?
Do you think that these people were aware and prepared for a collapse?
Did they have the mental or physical assets in place to deal with a new paradigm?
What makes you think that you are better than these Americans?
If you think it is hard to hear your child cry when they don't get their way, wait until they cannot get food.
If you think it is hard to get a job in this economy, wait until there is no economy.
This car is this entire family's wealth.  The average American right now is worth less than an average Bangladeshi peasant.  The peasant does not have trillions of dollar of debt tied around their necks.
Physical poverty is one thing… Mental poverty is another.  Everything you know probably is dependent upon this paradigm.  What real value do you have in a post dollar collapse environment?
We can survive anything together, but even the average American family has been divided and conquered.
How many mothers are going to sit in regret that they did not prepare themselves or their children for a collapse?  How many wished that they not wasted their time energy and money chasing after things that mean nothing?  How important is fashion, soap operas, or reality TV?
How many fathers will regret that they did not spend more time with their children?  How many men sacrificed time with those that mattered chasing after and illusion that failed them the moment they reached for it?  McMansions and Ponzi retirement are the real dream, while we now dream about the real relationships and opportunities gone.
Emotionally tough people can make it through.  They can adapt and move on.  Emotionally weak people break, because they have never been challenged.
The very real world coming takes a lot of real effort and patience to succeed and that is something we are in very short supply of as a society.
Tent cities are here and the crippling poverty is just starting as the Elite start the final theft.
"It wasn't much, but we had each other." stands in stark contrast to today where we have so much but no one to share it with.
Generational support has been ripped from our human experience and is a key to getting back on our feet.
The most famous picture of the Depression was of Florence Owens Thompson taken by Dorothea Lange.  The photographers notes from the 10 minute photo shoot were a follows…
"Seven hungry children. Father is native Californian. Destitute in pea pickers' camp … because of failure of the early pea crop. These people had just sold their tires to buy food. I did not ask her name or her history. She told me her age, that she was 32. She said that they had been living on frozen vegetables from the surrounding fields and birds that the children killed. She had just sold the tires from her car to buy food."
All of those things that we worked so hard for become worthless when the paradigm collapses.  The worst part is most of the stuff Americans buy are cheap stuff from China that will either break or have no real value in the next paradigm.
Those that have been breed to thrive in a collectivist paradigm, to do as they are told and not ask questions, will be left destitute when the paradigm collapses.  Only those that use the power of the Trivium will be able to adapt to a new reality.
Men will be split from their families as they seek opportunities far and wide.
Women will have to endure not only their world falling apart but trying desperately to shield their children from the harsh new reality.
"Those that did not see this coming, won't know what to do when it get's here." -Jim Puplava
This article has been generously contributed for your reading pleasure by Silver Shield of Don't Tread on Me. You can be aware and prepared by simply joining the FREE Sons of Liberty Academy.