This report was originally published by Sara Tipton at Tess Pennington's ReadyNutrition.com.
Tess is the author of The Prepper's Blueprint: How To Survive ANY Disaster.
Traveling can be fun, but going through the Transportation Security Administrations checkpoints can leave you feeling exploited and defenseless.  The TSA's rules are constantly changing, and it can be difficult to know what you are allowed to have on a plane.  Because of this, we've broken down the best survival and self-defense tools TSA will allow in this handy guide.
All of the tools shown below are 100% TSA approved, meaning they will allow you to carry them in your carry-on bag on a flight without hassle. Unless things change again. (I had half plastic, half metal baby fingernail clippers seized from me once.)
Just in case the TSA gets overzealous, you can prevent your multitool from being stolen from you. One travel hack that works for some is to open up all the tools and place it in the change tray. If that doesn't do the trick, another quick tip is to pack an envelope with pre-paid postage. That way, if you run into any problems, you can avoid confiscation by mailing it home or to a friend instead.
*All images courtesy of Amazon
Backed by a titanium nitride coating to help prevent corrosion, this shard keychain includes a wire stripper, bottle opener, lanyard hole and more. It also comes with flat and Phillips head screwdrivers. It's small and easy to carry. The Shard, made with a unique keyhole, can easily attach to a split ring or key ring, which lets you keep the multi-tool handy at all times.
Size: 3.1 x 1.3 x 0.6 inches and weighs .0.32 oz., with lightweight easy to grab-and-go functionality you should imagine from a great keychain multi-tool.
The best news is that this little tool won't break the bank either.  You grab this one for $6.95 on Amazon.
This handy multi-tool includes needle nose pliers, wire cutters, scissors, a zipper hook, small and medium flat screwdrivers, tweezers, a bottle opener and much, much more. Built by Gerber again, it's definitely one heck of a quality carry-on tool. This tool is bladeless for travel-friendly use, features a butterfly open design, with comfortable ergonomic handles, stainless steel construction, and a convenient keychain ring.
Size: 0.7 x 5.5 x 6 inches
This handy tool will cost you $14.95 on Amazon.
Made in the United States, this multitool is "ready for anything. With the functionality of a Leatherman, all in one stylish package, The Tread's modular design is fully customizable to fit your needs and your wrist. The Tread is fully adjustable to fit your wrist. Simply add or remove links in quarter-inch and half-inch increments to fit.  It also has a variety of box wrenches, hex drives, flat and Phillips screwdrivers, oxygen tank wrench, carbide glass breaker, sim card pick, cutting hook, socket drive adapter, and bottle opener. This one is meant to be worn everywhere, not just on the airplane. 
Size: 3.9 x 5.9 x 9.4 inches
This one will set you back a bit coming in at $174.95 on Amazon.  However, it comes with a 25-year limited warranty.
The Piranha 2 multi-purpose pocket tool features  7 tools, which include a scraper, bottle opener, 1/4″ hex bit driver, medium screwdriver, open wrench (English), box wrench (Metric), and box opener.
Size: 4.9 x 2 x 1.1 inches
This one is not as pricey as the wearable tool.  Amazon has it listed for $14.99.
The Style PS is the ultimate pocket-sized multitool. Put it in your pocket, clip it on your bag, and even take it when you travel right in your carry on bag. It's lightweight and compact size makes it easy to take with you anywhere. The Style PS features spring-action needlenose and regular pliers, spring-action wire cutters and scissors, flat and Phillips screwdriver, tweezers, nail file, and combination carabiner and bottle opener. Style PS also only requires one hand to open and use all the tools.
Size: 3.1 x 2 x 1.3 inches
The Style PS is selling for $29.95 on Amazon
This keychain multitool is inexpensive and can tighten bolts and screws or open a bottle. It features a box Cutter, a bottle opener, wrench (.25", .3125", and .375"), ruler (inches and centimeters), carabiner, and flathead screwdriver.
Size: 2.6" x .7" x .1"
You can snag one of these on Amazon for only $3.98!
This folding credit card knife is TSA-approved. Made entirely of heat treated stainless steel, it features a replaceable blade, built-in screwdrivers, a pry-bar, and a bottle opener.  Since it's the size of credit card, it also easily slides into your wallet.  Zootility WildCard™  knife is TSA compliant, however, if you get in a confiscation situation, you can just surrender the blade, and keep the handle, which features built-in screwdrivers, a pry-bar, and bottle opener, making it the ultimate tool for everyday carry and replace the blade later. 
Size: 2.2 x 3.2 x 0.1 inches
This multi-tool is available on Amazon for $35.00
*All Amazon prices are current to when this article was written and may change after publication.
This information has been made available by Sara Tipton via Tess Pennington's Ready Nutrition
---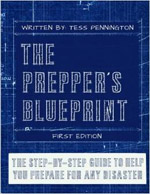 Tess Pennington is the author of The Prepper's Blueprint, a comprehensive guide that uses real-life scenarios to help you prepare for any disaster. Because a crisis rarely stops with a triggering event the aftermath can spiral, having the capacity to cripple our normal ways of life. The well-rounded, multi-layered approach outlined in the Blueprint helps you make sense of a wide array of preparedness concepts through easily digestible action items and supply lists.
Tess is also the author of the highly rated Prepper's Cookbook, which helps you to create a plan for stocking, organizing and maintaining a proper emergency food supply and includes over 300 recipes for nutritious, delicious, life-saving meals. 
Visit her web site at ReadyNutrition.com for an extensive compilation of free information on preparedness, homesteading, and healthy living.