This article was originally published by Daisy Luther at The Organic Prepper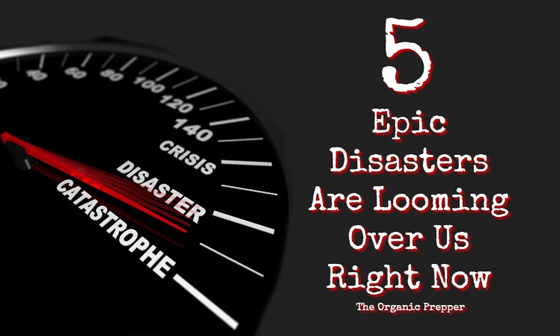 Doesn't it seem like all the disasters are coming at us at the same time? Here are 5 things that will make you glad you're a prepper. And if you're not, perhaps this is a cosmic kick in the pants that is telling you that you should be.
Here are 5 epic disasters that are happening right now.
The five stories below will make you want to double down on your preparedness efforts because between mankind and Mother Nature, things are looking increasingly dangerous.
Get the supplies you need to survive here.
Sign up here to get daily email updates.
Hopefully, the disasters that appear to be en route will end up being non-events.
Texas was just hit with the biggest rainfall ever recorded in the Continental US.
Hurricane Harvey flooded the Gulf Coast of Texas with more rain than has ever been recorded in this country. The storm dumped 51.88 inches of rain on the state, flooding the coast and causing billions of dollars worth of damage to homes, businesses, and infrastructure. And the disaster isn't over yet. With the flood and wind damage comes a whole new set of problems, like waterborne illness, mosquitoes, and explosions at flooded factories. (Read more about the aftermath of Harvey here.)
The Western United States is on fire.
The western half of the country is burning right now, with smoke so dense that NASA has tracked it all the way the way to western New York. More than 80 wildfires are spreading uncontrollably across California, Washington, Oregon, Idaho, Colorado, and Montana. Pair the fires with extreme heat, high winds, and very dry conditions, and it's a recipe for an unstoppable disaster. Hundreds of homes have been destroyed, natural and historical wonders are going up in flames, and thousands of people have been evacuated from their homes. (source)
North Korea successfully tested a hydrogen bomb…and they keep threatening us.
Despite warnings from the international community, North Korea continues to behave in an increasingly aggressive fashion. In the past week, they sent a missile flying over Japan and they detonated a powerful hydrogen bomb. They've also pointed out that a nuke could be detonated in the atmosphere over the United States, resulting in an electromagnetic pulse that could take out our electrical grid for years.
But it isn't just the US that is at risk from North Korea's irresponsible actions. The mountain where the bomb was detonated is beginning to show damage, with landslides that are visible from satellite images. Chinese scientists say that the mountain is at risk for collapse, and if that happens, it will cause an unprecedented radioactive environmental disaster. Wang Naiyan, a former chairman of the China Nuclear Society and a researcher on China's own nuclear weapons program, said, "We call it 'taking the roof off.' If the mountain collapses and the hole is exposed, it will let out many bad things." (source)
Two X-class solar flares are headed our way.
And if North Korea doesn't take down our grid, the sun might. The sun just released two of the biggest solar flares in a decade. Space.com reports:
At 5:10 a.m. EDT (0910 GMT), an X-class solar flare — the most powerful sun-storm category — blasted from a large sunspot on the sun's surface. That flare was the strongest since 2015, at X2.2, but it was dwarfed just 3 hours later, at 8:02 a.m. EDT (1202 GMT), by an X9.3 flare, according to the National Oceanic and Atmospheric Administration's Space Weather Prediction Center (SWPC). The last X9 flare occurred in 2006.

According to SWPC, the flares resulted in radio blackouts: high-frequency radio experienced a "wide area of blackouts, loss of contact for up to an hour over [the] sunlit side of Earth," and low frequency communication, used in navigation, was degraded for an hour. (source)
There is some evidence that a cloud of plasma was released along with the second flare, called a coronal mass ejection. This could cause spectacular auroras tonight, but could also damage satellites, communications, and the electrical grid. It takes anywhere from 1-4 days for the CME to reach the earth. The issue with communications and satellites could be huge, effectively blinding us with Hurricane Irma on the way.
Hurricane Irma, one of the most powerful hurricanes ever recorded, is headed straight for Florida.
If hurricanes could talk, Irma just said to Harvey, "That's all you've got? Hold my beer."
As Michael Snyder wrote, "If there was such a thing as a Category 6 hurricane, this would be it." Hurricane Irma is the strongest hurricane ever measured outside of the Gulf of Mexico and the Caribbean, with sustained winds of over 185 miles per hour. Unless something major happens to steer the storm away, the storm is due to hit the Florida Keys as soon as Sunday, and since there is only one road out of the Keys, the islands are already under mandatory evacuation orders.
If you are in Florida or close to the Southeast coast, I strongly advise you to evacuate. Your home cannot stand up to sustained winds of nearly 200 mph. Leave now before all routes out are clogged with people, because if you think being in a house when the storm hit would be bad, you don't even want to think about being stranded in your car on the road. Here's an evacuation checklist that can help you get ready to leave in a hurry. If you are someplace where you can safely hunker down (like AWAY from the coast), here is a guide to hurricane survival.
There are two more tropical storms close behind Irma with the potential to turn into hurricanes. Jose is on the same course but may veer North instead of hitting Florida and the East Coast. Katia is developing in the Gulf of Mexico near Veracruz.
One disaster after another.
I'd ask what else could possibly go wrong but it seems like that could be taken as a challenge.
Are there other pending disasters that you have your eye on? Share the bad news in the comments below.
---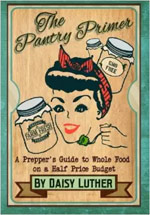 Please feel free to share any information from this article in part or in full, giving credit to the author and including a link to The Organic Prepper and the following bio.
Daisy Luther is the author of The Pantry Primer: A Prepper's Guide To Whole Food on a Half Price Budget.  Her website, The Organic Prepper, offers information on healthy prepping, including premium nutritional choices, general wellness and non-tech solutions. You can follow Daisy on Facebook and Twitter, and you can email her at [email protected]