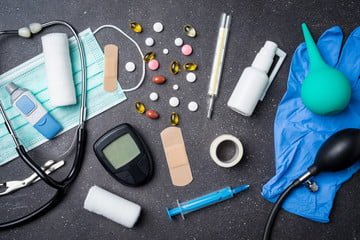 Prepping comes with its up and downs and it often comes more opinions than anything.  So today, I'm sharing an opinion of mine.  There are 4 medical items that people will often overlook when putting together a medical kit, and I think they should at least be considered.
Things happen. People forget. We think we're done. But some of us are really never done preparing for the future and upgrading our vehicle survival bags and medical kits. Because of that, there are 4 things that people often do overlook when putting together a medical bag, and all could be invaluable if you need them.
It's better to not need it and have it than to need it and not have it.
Over the Counter Pain Medication
These are not cheap and they do expire, so you'll have to make sure you keep your stash current.  The only reason to make sure medications aren't expired is that they do lose potency over time. Even hydrogen peroxide will eventually become nothing more than essentially a bottle of water. I prefer not to use over the counter pain medication if I can help it, but sometimes you'll need to take the edge off.  Plus, a couple of Aspirin could be a bartering item.
Make sure you keep extra medicines you and family members are already taking on hand.  If you run out of those medications, it will definitely be a time to panic!
2. A Reference Manual & Skills
If you're not a medical professional, having a few books on hand to help you out could be incredibly valuable in a SHTF situation.  One of the ones I highly recommend is The Survival Medicine Handbook: THE essential guide for when medical help is NOT on the way
,  by Joseph Alton MD. But there are others that could provide value too such as Living Ready Pocket Manual – First Aid: Fundamentals for Survival
. If you have a family member that could perhaps become pregnant or is already pregnant, consider grabbing some books on the subject too.  It can never hurt to have a reference if there's no medical professional around and you need answers fast!
You may also want to boost your skills.  Take a first aid and CPR class.  Sign up for any medical aid classes you can and learn how to treat common illnesses and injuries.
3. Emotional Stress Relief
In a SHTF scenario, people are going to be stressed out. Sleeping is going to be difficult and emotions will run high as peoples' mood deteriorate. Keep something on hand to soothe some of the stress.  If herbal tea calms you, keep extra on hand.  If you like having your pet around because they boost your mood, make preps for them.  I also toss CBD oil in my bug out bag and keep some in the house.  It works well for me, and while it's not for everyone, it may help some and it doesn't take up too much space.
4. Clotting Agent
Clotting agents, like Quikclot or Celox, help to get wounds to stop bleeding and scab over quicker. This can be very useful in a situation where a wound is bleeding quickly. The more blood a person loses, the longer it will take them to heal. Using a clotting agent helps to reduce their recovery time and can prevent them from bleeding out and dying.
This is by no means an exhaustive list of things people can overlook. But I know at least few that don't have some of these items in their medical supplies. I also tried to choose the items that would be of the most value to most people. Of course, I always assume that if I can't use it, I may be able to barter with it.