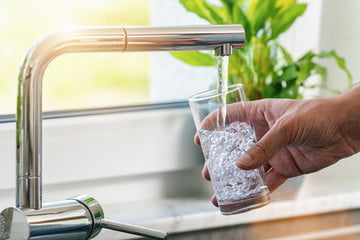 About 3 million Texans are still currently on a "boil water advisory" amid food shortages.  The problems keep mounting for the state after a brutal winter storm devastated areas not used to such cold temperatures.
The number of people boiling their water out of safety has dropped to 3 million Wednesday from 8 million the day before. Plumbers and engineers have worked around the clock to repair the countless homes and businesses damaged by a brutal winter storm, according to a report by NBC News.   Some 13,000 people were still without any running water Wednesday after the public water systems they rely on were rendered "nonoperational" by the unseasonably cold winter blast, the Texas Commission on Environmental Quality reported.
Those who do have water report that it doesn't look clear. "The water itself, it's really coming out all yellow," San Antonio mom Evelyn Esquivel said Tuesday.
This problem is coupled with a food shortage in the state. Many Texans are still seeing empty shelves at the grocery stores, which struggled to stay stocked. Large crowds descended on food pantries, in the wake of the government's response to the COVID-19 hoax scamdemic, that forced people to believe they had to shut down their businesses and impoverish themselves. That means little food is left to go around now the stores have sold out.
State Representative Rafael Anchía, a Democrat from Dallas, said Tuesday that "this situation isn't over by a long shot. We had millions of Texans already suffering from a pretty deep recession caused by the Covid-19 pandemic," Anchía said. "We had people already in a fragile state, and when you compound that with the worst statewide winter storm and disaster … people who were barely holding on are completely wiped out." Imagine that. People obeyed the orders of the government to panic and shut down their businesses to their detriment, and it's all the "scamdemic's fault."
Let's wake up to the reality of the situation:
Government, Not Coronavirus, Is Killing Small Businesses
Hopefully, this is a lesson in preparedness for not just Texans, but everyone.  It never hurts to have some food and water stocked and stored up and it won't hurt to have a backup source of heat for your home, such as a woodburning stove.