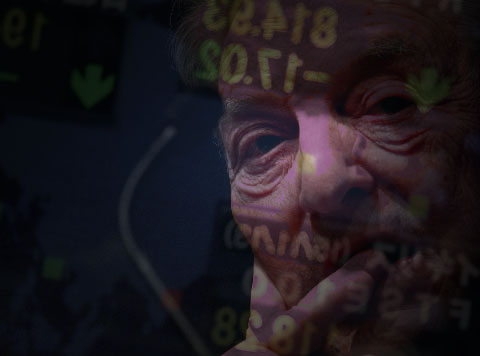 One of the most notorious and foreboding voices in international finance has warned the world that another crisis is coming, and it will be at least on the magnitude of the 2008 economic collapse.
Many experts fear it could be even worse.
Of course, George Soros isn't saying all that he knows, but he is saying enough to make tumbling Chinese markets and anxious U.S. markets even more paranoid. The kind of selloffs happening in China that are triggering its market "circuit breakers" and the troubling 400-point plunge on Dow today show that investors are spooked and fearful.
It wouldn't take more than a whisper campaign from the right insiders to send it spiraling into all out crisis. Are we already there?
via CNBC:
Billionaire financier George Soros is warning of an impending financial markets crisis as investors around the world were roiled by turmoil in China trade for the second time this week.

Speaking at an economic forum in Sri Lanka's capital, Colombo, he told an audience that China is struggling to find a new growth model and its currency devaluation is transferring problems to the rest of the world, according to media. He added that a return to rising interest rates was proving difficult for the developing world.

The current environment reminded him of the "crisis we had in 2008… China has a major adjustment problem," he added, according to Bloomberg. "I would say it amounts to a crisis."
Soros is laying out the same scenario many analysts in the alternative media have been discussing – a debt bomb exploding in the third world as credit tightens, and a contagion from collapsing markets in China and perhaps other major financial centers.
Goldman Sachs has forecast nearly the same economic crisis, dubbing it the Third Wave, and connected it with a larger collapse tied to not only 2008, but the financial struggles in Europe that followed:
This wave is characterised by rock-bottom commodities prices, stalling growth in China and other emerging-markets economies, and low global inflation, Goldman Sachs analysts said…

This triple whammy has its roots in the response to the first two waves of crisis — the banking collapse and European sovereign-debt crisis — and it is all part of the so-called debt supercycle of the past few decades.

[…] Now that interest rates are looking as if they might go up, lenders are heading for the exits and investors are pulling out of commodities, which are closely linked to the fate of the emerging economies.
These analysts have identified that debt-plagued developing countries will fold when they fail to meet repay obligations. The subsequent rash of bad loans and bailouts will contaminate the economics of other markets, and disaster could follow in spectacular fashion.
This is particularly true in light of a stronger U.S. dollar and an increase in the Federal Reserve rate, which is acting as a call on risky debtors.
Soros' position as a giant in the waters of financial affairs amplifies his comments, as many look to major moves by the billionaire with ominous tones:
Marc Ostwald, a strategist at ADM Investor Services, believes that Soros' comments — alongside a gloomy report Wednesday from the World Bank — only serve to cast a "long shadow" over global markets.

"It should be noted that the current turmoil distinguishes itself from 2008, when reckless lending, willful blindness to a mountain of credit sector risks and feckless and irresponsible regulation and supervision of markets were the causes of the crash, given that central bank policies have been encouraged and been wholly responsible for the current protracted bout of gross capital misallocation," he said in a morning note.
The difference between 2008 and what is happening now is that the Federal Reserve ZIRP policies have had a direct correlation with the problems that are now becoming untenable – and almost everyone admits it.
George Soros warned in 2010 that a major collapse was coming, but would set in over about eight years. The end of that timeline is no longer far off:
"We are facing an extremely difficult time, comparable in many ways to the 1930s, the Great Depression. We are facing now a general retrenchment in the developed world, which threatens to put us in a decade of more stagnation, or worse. The best-case scenario is a deflationary environment. The worst-case scenario is a collapse of the financial system."
More recently, noting the ensuing currency wars between China and the United States, Soros predicted that we are on the threshold of a Third World War as well:
"If there is conflict between China and a military ally of the United States, like Japan, then it is not an exaggeration to say that we are on the threshold of a third world war," Soros said.

[…]

"One crumb of comfort could be the 10-year period between the 1998 Asian crisis and the 2008 credit crisis. If the pattern is repeated, it should at least mean we have another 8 years to go before the next crash," Soros stated.
There are many important things happening in the world right now. Perhaps it is much more than any one of us can keep track of, but they are worth paying attention to.
Our entire way of life is slipping out from under us, and the architects of world finance and rearranging the pieces to play for keeps.
Read more:
Goldman Sachs: The Third Wave of the Financial Crisis Is Upon Us
Soros Warns of Violent Riots In America, Financial Collapse, Government Clampdown: "SURVIVAL IS THE MOST IMPORTANT THING"
"Threat of 3rd World War Real" – Billionaire Soros Warns Currency War With China Could Go Hot
George Soros Says Crash Imminent, But It Might Take 8 Years