This article was originally published at Tess Pennington's ReadyNutrition.com
Tess is the author of The Prepper's Blueprint: How To Survive ANY Disaster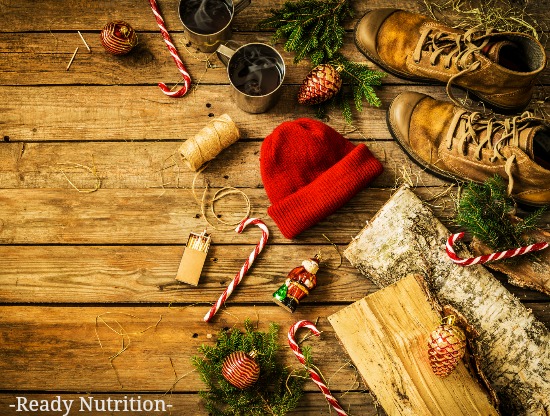 Natural living, homesteading, and those interested in living more sustainably is increasing every year. Perhaps it is because people are finding that the ever-changing technologies of today are overwhelming and they feel more at peace living more naturally. Or, families have found that frugality really helps the pocketbook. One thing is for sure, homesteading and natural living places more value on practicality rather than expensive gadgets. Some of these practical Christmas gifts may be just what your favorite 'steadie is wishing for.
10 Holiday Gift Ideas for the Happy Homesteader
1. Coffee Bean Roasting Machine
There's nothing like freshly brewed coffee made from roasted coffee beans. This stainless steel roller slow-roasts your coffee beans evenly. The roller creates smooth, rapid cooling and the removal of bean skin. In fact, this can be used for more than just coffee beans. The handy observation window helps you watch the process in motion. Use it for baking beans and nut products. You can get
green coffee beans
and store them in your long-term food pantry for a steady supply of delicious coffee beans.
If you've been interested in making fresh soap for the family, this is a great starter kit! This kit includes everything you need to make a batch of soap and can be reused for later soap making adventures. What I love about this kit is it was Made in the USA and is handcrafted in a sustainable manner.
It's hard for homesteaders to find time to get everything done; so taking shortcuts is always an option. Breadmaking can take a while to make, so using a breadmaker machine can cut the task in half. Developed with nutrition in mind, there are 12 settings – including a gluten-free setting. In addition to bread, you can make pizza dough, cakes, jams, flatbreads, and croissants.
I've been looking for an electric cereal grinder for a while and came across this one. I have a manual grinder, but I wanted to find something that I could use quickly. The
Vinmax grinder
is suitable for grinding all types of grains, including herbs and beans. This would be great for making medicinal teas and poultices, making your own livestock feed, or just grinding grains and cereals for the food pantry.
A good winter hat is essential for living in
harsh winter environments
 because they trap in body heat from the head. Made in the USA, Carhartt has a proven track record for reliable clothing items. This practical gift will keep on giving each time its worn.
Take your chicken-tending to the next level. This personalized rubber egg stamp will put a personal touch on your eggs and a smile on your face.
It is truly simple to produce your own lush food garden!
All it takes to get started is one Ready Nutrition Brand Homestead Vegetable Garden-In-A-Can, some good dirt, clean water, a healthy dose of sunshine and a little TLC every day! Before you know it, you'll be up to your ears in fresh food — enough to feed up to a family of eight for a whole year!
Frugality and homesteading go hand-in-hand. Why not take advantage of some useful technology? The Renogy 200W Solar Power Starter Kit is perfect for new customers wanting to get a start in solar. The Starter Kit is great for off-grid applications, such as RVs, trailers, boats, sheds, and cabins — providing many benefits, including, but not limited to, quiet power production and grid independence. Adding a polycrystalline or monocrystalline solar panel kit can extend your travels further than ever before.
This solar kit comes with the tools necessary for a new system: two Renogy 100W 12V Poly/ Mono Solar Panels, one 30A PWM Wanderer Charge Controller, one 20ft 10AWG MC4 Adaptor Kit, one 8ft 10AWG Tray Cable, one set of MC4Y connectors and two sets of Z-brackets. Start your solar adventure with a Renogy Starter Kit.
These kitchen towels are perfect for the homesteader's kitchen. These handsome floursack towels project a natural homey look with a touch of class. The theme includes farm animals and fun phrases like "Wakey wakey eggs and bakey", "Farm to table", "Farm Fresh", and "Cock-a-doodle-doo". The fabric is 100% cotton.
There's nothing like fresh waffles on Christmas day. This cast iron waffle maker b
akes delicate, crisp waffles to perfection and can be used on the s
tovetop or campfire. A plus is the slim profile takes up less space than an electric iron.
Merry Christmas and Happy Shopping to all of you!
Tess and the Ready Nutrition Writers
---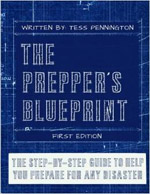 Tess Pennington is the author of The Prepper's Blueprint, a comprehensive guide that uses real-life scenarios to help you prepare for any disaster. Because a crisis rarely stops with a triggering event the aftermath can spiral, having the capacity to cripple our normal ways of life. The well-rounded, multi-layered approach outlined in the Blueprint helps you make sense of a wide array of preparedness concepts through easily digestible action items and supply lists.
Tess is also the author of the highly rated Prepper's Cookbook, which helps you to create a plan for stocking, organizing and maintaining a proper emergency food supply and includes over 300 recipes for nutritious, delicious, life-saving meals. 
Visit her website at ReadyNutrition.com for an extensive compilation of free information on preparedness, homesteading, and healthy living.