Well known market analyst Robert Prechter, who strongly favored stocks in March of 2009, says it's time to get out:
I think this is the third best selling opportunity in the last 10 years. The first one was in 2000, the next one was in October '07, the third one is somewhere between now and a few weeks from now. I am very negative again. Just to set the record straight, a year ago I was very very bullish on the market looking for 10,000 on the Dow. So, we've got there, we've exceeded and there are all kinds of reasons why I think this is a selling opportunity.

…

The market is overvalued, overbought, it's losing upside momentum, there are too many optimists in the market by several measures – this is the complete opposite of the environment a year ago in early March.

I think you can short just about everything, somewhere between now and May we're going to have a real rollover. Think about this progression. In October the bond market topped out. In November the Dollar bottomed. In December Gold and Silver and the utilities average, go figure that one, topped out. In January the CRB Index of commodities topped out. The stock market is the last domino holding up.

…

We're heading into another deflationary bout just as we had in 2008.

[source: Bloomberg Video]
[Hat tip: Distressed Volatility]
The stock market is a disaster waiting to happen, and as Prechter says, the US Dollar may be the only safe asset when it turns. Prechter did not mention gold as an investment to be holding when the turn happens, and this is likely because he sees a similar situation as in 2008, when precious metals, along with the broader markets, got hammered in a downward spiral. In a stock market collapse, the short-term move in gold could mirror equities, especially if paper gold holders, such as those who hold shares of ETF's like GLD or SLV, start running for the exists.
However, we will suggest to our readers that even in a deflationary spiral gold may still perform or at least drop less than other assets, especially because international buyers like the Chinese central bank may be interested if gold hits that $950 – $1050 support area. During the 1930's, which was a deflationary environment, gold followed the stock market for a while, but eventually decoupled and went in the opposite directions, to new highs, with gold mining companies experiencing massive gains, as depicted in the following chart: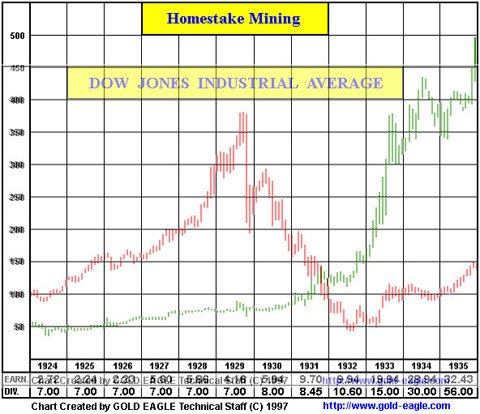 Of course, some deflationists like Harry Dent have suggested that we could see gold go as low as $250 per ounce if deflation were to take hold. But, as Dr. Marc Faber suggested in a recent interview, if we get to $250 gold, we are going to have some very serious problems elsewhere. Howard Katz, an SHTF Plan weekly contributor, suggests that we may not see a similar move in gold in the event of a stock market down-turn.
Any short term trading of gold instruments could be dangerous, thus, we are taking the approach of long-term investment. Regardless of what gold does in the near-term, we are holding. Our guiding principle for this is something Martin Armstrong has suggested about gold, which is that gold is not an inflation hedge, but rather, a hedge against government instability. If there is one trend that you can bank on, it's that government will continue to make bad decisions which will ultimately lead to a debt crisis and loss of confidence in the United States by not just foreign investors, but American citizens as well. This is when gold will really make its move.
Going back to Mr. Prechter's current assessment of the markets, whether you are holding gold or not, if you have any stocks, especially here in the US, it may be time to get out and enjoy the profits, as many a signal (technical, fundamental, psychological) is suggesting the rally driven by money printing and headlies is over.