This article was contributed by Tom Beck of Portfolio Wealth Global.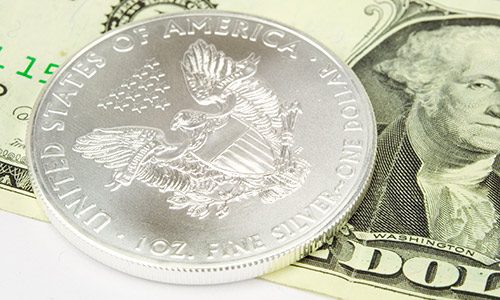 I can't even recall the number of times that I've STRESSED THE UNDERVALUATION of silver since January 2017, since the letter was founded; it's in hundreds, perhaps even thousands of articles.
My letters have been featured in many other publications, yet silver's MARKET SIZE is so small that only a few are benefiting from this and that's the way IT SHOULD BE if the masses chose to be indifferent about it.
Doubting the inevitability of this rally was a FOOLISH MISTAKE.
At 120:1, silver was more than a bargain, it was A SCREAMING BUY. The trade was so obvious, yet so few TOOK ADVANTAGE of it.
For silver, the next TRAIN STOP is here. At $27, it is entering a FAMOUS RANGE – between this price and $36 – and it will be a WILD WILD WEST showdown.
Clearly, gold and silver are indicating that the REAL ECONOMY and the stock market economy are not transmitting on the SAME FREQUENCY.
If you look above, silver has many doubters in this area. It fought for years to stay above $30 and attempted to CRACK PAST $35, but it proved TOO DIFFICULT a task, save for that one time when it did, and then went all the way to $49/ounce.
I was there in 2011 and I was selling, mostly at $42, which turned out to be very smart, since it then crashed severely and has never recovered to that price again.
Just like in 2011, we, the investors of 2020, only need silver to PENETRATE $35/ounce and go past it to the outskirts of the universe just the ONE TIME.
When it does, we'll be there with BELLS AND WHISTLES, waiting to eat the cake and leave it whole.
We are clearly seeing SOMETHING SPECIAL; a moment of historical significance. Right around $2,180, gold will meet a 40yr resistance line, which it FAILED TO BREACH in 2011.
I have a great feeling that it will this time around.
WE ARE KICKING ASS!