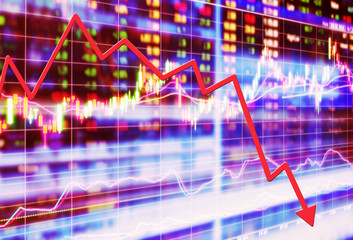 Because there are many indicators pointing to an imminent economic recession, it is important to be prepared.  Whether you are facing a job loss or a reduction in income, it is imperative that you take the appropriate measures to make things as comfortable as possible when the economy finally crashes.
There are three major things that we'd suggest you do before things go south.  No one knows if the next recession will happen quickly or be long and slow, but either way, those who prepare will be much better off than those who do not. If you haven't taken the time to look over your own personal finances, now is the time to do so.
Pay Down Debts
Making sure your payments are at an absolute minimum when the economy crumbles will ensure you need less money to get by every month. Jobs will be harder to come by and layoffs skyrocket when there is a recession.  Pay off your car and relieve that payment every month. You should also stop borrowing money. Even though the Federal Reserve decided to lower interest rates making borrowing look more appealing, it just is not the right time.  Being in debt during an economic meltdown is going to make things much more difficult in the event of a job loss or a decrease in your passive income.
2. Save Some Cash
Once you've paid down or paid off your debts, save some money.  Sure, the dollar could crash and savings may end up being worthless, but as of right now, we live under the dollar system, and people still accept them.  You may even have some time to spend those saved dollars on precious metals before they completely lose all of their value. An emergency fund that can take you through a rough couple of months could be worth it.  There's no "right" number to shoot for.  Just stash some cash away in a rainy day fund. In fact, just having a savings account could save you from the financial stresses of a medical emergency or an unexpected vehicle breakdown.
Once you've paid off enough of your debts that you've got some disposable income, buy some gold or silver.  These are not an "investment" rather insurance.  If the dollar loses all its value, and your savings account becomes worthless, having another form of currency could make a big difference.  Gold has been around as a currency and "real money" for a lot longer than the dollar.  And at the rate the government is going into debt and printing money to service said debt, the dollar's value can't and won't last.  Inflation or even hyperinflation is a very real possibility; however, gold can be insurance against this.  Gold will still buy today what it would buy 100 years ago.  The same cannot be said about the dollar or any other fiat currency for that matter!
The important thing to remember is that preparations for an economy crash take time.  But as you acquire dollars, take into account the three steps above to help protect yourself against almost all financial emergencies.  Also, consider signing up to receive emails from Future Money Trends. They deliver personal wealth-building advice in an ever-changing economic system.