This article was contributed by Lior Gantz of the Wealth Research Group.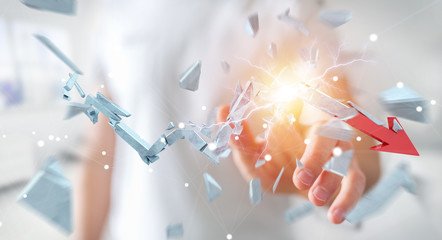 What NO ONE expects is a deep recession; there are a number of CONFLICTING THEORIES as to what the recovery will look like, but nothing about entering a recession. The consensus is that the pandemic is highly contagious, but not lethal; "with a vaccine coming and FEAR LEVELS subsiding, a recovery has begun," is the general idea.
Where OPINIONS DIFFER is about its strength and inclusiveness of the recovery:
Dichotomy – This is the thesis that claims BIG BUSINESS is eating up SMALL BUSINESS, so the recovery is HAPPENING, but it isn't a healthy one. We'll see GDP printing better stats with each PASSING QUARTER, but poverty is increasing, since BIG gets BIGGER and small gets TINY.
Vaccine-Dependent – This camp believes that the PENT-UP DEMAND will be unleashed, once first-responders agree to take the vaccine. That stamp of approval will LEAD to CONFIDENCE worldwide; I want to show you how much DISTRUST THERE IS in the value stocks, which are companies that dominate their industries but are growing slowly and predictably, not fast and sporadically.
The market believes that each company that isn't on the cloud is going out of business, which has led to a bubble:
You should consider THE FACTS about the pandemic before I move on to the THIRD CAMP, which are the investors who believe in the "V"-shaped or quick "U"-shaped recovery. They're BUYING DIPS, as I am right now, following our FOUR WATCH LISTS: 1, 2, 3, and TECH.
The MOST IMPORTANT fact is that the PANDEMIC ITSELF isn't lethal; the real crisis is overwhelmed hospitals and insufficient medical staff.
While no one likes to see CROWDED HEALTH FACILITIES, if those do return, this would be nowhere near the panic levels of March, when healthy people feared FOR THEIR LIVES.
Therefore, to expect markets to price in MARCH LOWS is a bit of a stretch of the imagination.
Instead, be agile in your thinking; there are REAL BARGAINS out there. Flexibility is needed, though. Don't wait for sellers to hand you once-in-a-generation prices for the second time in six months.
As you can see, tight presidential races WEIGH ON PRICES, since it's a huge unknown factor, especially when the parties are THIS POLARIZED on policy and public ideas.
It's a tale of two Americas with two opposite agendas.
Where does gold come into the picture?
Slow "V" or Fast "U" – Those who are FREE-MARKET oriented understand that businesses have muscled through the ROUGH PATCH and that capitalistic forces are driving innovation in this post-COVID-19 reality.
Wall Street and institutional money will be ENTERING EQUITIES on this severe dip and you ought to know that BUYING NOW is playing with fire, but I am certainly am.

Gold stocks have also reached their MOMENT OF TRUTH:

They MUST PENETRATE below the average of 2.5; that will signal a MULTI-YEAR TREND, which will confirm the bull market. The fact that Kinross and Newmont, among other large-cap miners, are RAISING DIVIDENDS, is a healthy sign of confidence from the most reputable management teams out there.

The September dip has allowed us to find companies with GREAT SUPPORT and I'm going to present new stock profiles, since, as the chart above shows, we're ON THE CUSP of the REAL MOVE.

Gold might sell in this panic even further, but that's not the REAL TREND; think ahead by 6-12 months and you'll realize that inflation is accelerating!

[DISPLAY_ULTIMATE_SOCIAL_ICONS]