This article was contributed by Tom Beck of Portfolio Wealth Global.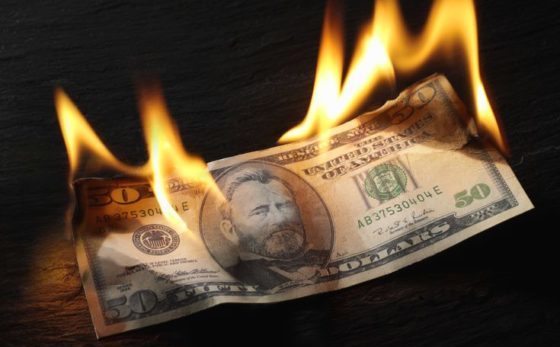 At this point, society is being REARRANGED. Forget anything you know about our political, judicial, and financial systems, and the values we cherish.
Basically, discard anything you thought America stood for. America is fighting for survival. It's a DO-OR-DIE moment and the government and the central bank are TAKING OVER everything.
I've already covered the fact that the Federal Reserve has lowered rates to zero. I've shown you the MARGIN CALL that the U.S. Dollar has been in, but you'll need to sit down for what's coming next.
We live in a new world.
In this new system, the Federal Reserve criminals are ABOUT TO begin buying corporate debt. The authorities are OUTLAWING defaults and OUTLAWING the failure of the business world so that TAXPAYERS will be liable for EVERYTHING.
Through the guise of private enterprise and keeping markets open, the Federal Reserve will purchase, by the time this is done, TRILLIONS OF DOLLARS in debt.
As I see it, the Federal Reserve will become the largest owner of toxic debt in history.
This is a form of communism and the panic that's out there will allow these draconian measures to be implemented.
I'm seriously considering the ramifications of this. America is turning into Japan.
This is the FIRST time you're going to be hearing about this: MY ESTIMATE is that markets are now contemplating the risk of America going under, of the government falling apart.
Bond yields are actually going UP.
Silver Eagles are selling for $22/ounce, while the spot price is around $12/ounce. Our markets are broken.
That's not all; not by a LONG SHOT!
We are also hearing that the U.S. government, using TAXPAYERS' money (whatever that means at this point), is considering BUYING STOCKS!
We are stretching the limits of what America even means. This is the worst transformation of our core ideas I've ever seen.
These are measures that put in jeopardy the mere meaning of fair competition: PERSONAL ACCOUNTABILITY and BEING AN INDIVIDUAL.
All laws are written, as we go along.
We are creating a new society, a new global economy, and a new paradigm.
FORGET about the past. You have woken up to a new reality. The financial losses mean absolutely NOTHING, compared with the loss of LIBERTY.
The government will own real estate, stocks and bonds and will exercise TOO MUCH control over the economy.
This should CONCERN you.
The government has asked FEMA to get involved and they've AGREED to send paychecks to all Americans.
Every prediction that I've made, which five years ago was CONSIDERED TABOO, is coming true.
I discussed the day that the FED would cut back to zero. I highlighted that we'll first see a HUGE RALLY in the dollar (because everyone is selling), and I forecasted that we will see STOCKS PURCHASED by federal agencies.
1984 is here!
We are days away from seeing the GLOBAL BANKING SYSTEM freeze; a 2008 repeat.
This will require a miracle to avoid and, worst of all, the MEDIA is the main virus here – spreading PANIC that is SO overblown that I believe people will never trust it again.
TRILLIONS have been lost. The bottom line is that we've lost our way.
This is precisely why I have a 2nd passport, physical metals, a cash duffle bag, whole life insurance and friends in several countries.
You need to know who to trust for accurate facts, for sound reporting, and for hard evidence.