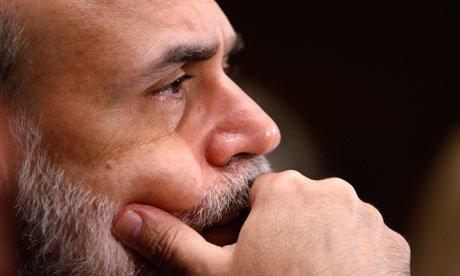 Before we bring you Federal Reserve Chairman Ben Bernanke's latest guarantees and expert opinion, as well as a near perfect forecast for the future, we present to you some of his greatest hits:
July 1, 2005  Interview on CNBC
INTERVIEWER: Ben, there's been a lot of talk about a housing bubble, particularly, you know [inaudible] from all sorts of places. Can you give us your view as to whether or not there is a housing bubble out there?

BERNANKE: Well, unquestionably, housing prices are up quite a bit; I think it's important to note that fundamentals are also very strong. We've got a growing economy, jobs, incomes. We've got very low mortgage rates. We've got demographics supporting housing growth. We've got restricted supply in some places. So it's certainly understandable that prices would go up some. I don't know whether prices are exactly where they should be, but I think it's fair to say that much of what's happened is supported by the strength of the economy.

…

July 1, 2005 Interview on CNBC
INTERVIEWER: Tell me, what is the worst-case scenario? We have so many economists coming on our air saying  "Oh, this is a bubble, and it's going to burst, and this is going to be a real issue for the economy." Some say it could even cause a recession at some point. What is the worst-case scenario if in fact we were to see prices come down substantially across the country?

BERNANKE: Well, I guess I don't buy your premise. It's a pretty unlikely possibility. We've never had a decline in house prices on a nationwide basis. So, what I think what is more likely is that house prices will slow, maybe stabilize, might slow consumption spending a bit. I don't think it's gonna drive the economy too far from its full employment path, though.

…

March 28, 2007 Testimony before the Joint Economic Committee, Congress
Although the turmoil in the subprime mortgage market has created severe financial problems for many individuals and families, the implications of these developments for the housing market as a whole are less clear. At this juncture, however, the impact on the broader economy and financial markets of the problems in the subprime market seems likely to be contained.

…

January 10, 2008 Response to a Question after Speech in Washington, D.C.
The Federal Reserve is not currently forecasting a recession.

…

June 10, 2008 Remarks before a bankers' conference in Chatham, Massachusetts
The risk that the economy has entered a substantial downturn appears to have diminished over the past month or so.
From the man who's done so well at forecasting the economic crisis, here are Ben Bernanke's most recent comments – we advise readers to take note, because given Mr. Bernanke's historical forecasting results, you'll get a pretty good idea of what to expect going forward:
Excerpts transcribed by Zero Hedge

Q: What did you see that caused you to pull the trigger on the $600 billion, at this point?

BERNANKE: It has to do with two aspects. The first is unemployment. The other concern I should mention is that inflation is very, very low, which you think is a good thing and normally is a good thing. But we're getting awfully close to the range where prices would actually start falling.

Q: Is keeping inflation in check less of a priority for the Federal Reserve now?

BERNANKE: No, absolutely not. What we're trying to do is achieve a balance. We've been very, very clear that we will not allow inflation to rise above two percent or less.

Q: You have what degree of confidence in your ability to control this?

BERNANKE: One hundred percent.

Q: How would you rate the likelihood of dipping into recession again?

BERNANKE: It doesn't seem likely that we'll have a double dip recession. And that's because, among other things, some of the most cyclical parts of the economy, like housing, for example, are already very weak. And they can't get much weaker. And so another decline is relatively unlikely. Now, that being said, I think a very high unemployment rate for a protracted period of time, which makes consumers, households less confident, more worried about the future, I think that's the primary source of risk that we might have another slowdown in the economy.

Q: You seem to be saying that the recovery that we're experiencing now is not self-sustaining.

BERNANKE: It may not be. It's very close to the border.  it takes about two and a half percent growth just to keep unemployment stable. And that's about what we're getting. We're not very far from the level where the economy is not self-sustaining.
As the world's premier contra-indicator, Ben Bernanke's analysis and forecasts should not be taken lightly. Using Bernanke's historical and recent musings, we can create a fairly accurate forecasting model which leads to the following predictions:
The Federal Reserve is doing everything it can to get inflation going – keeping it in check is not a priority, as has been the case for the last 100 years. Over the last century the US dollar has lost of 95% of its purchasing power. If the Fed has its way, we will infinitely approach 100% until the dollar is complete destroyed and replaced by a new currency.
The housing market will continue to deteriorate and is nowhere close to a bottom in nominal terms. While the perception may be that home prices are rising, adjusted for inflation relative to things like food, energy and precious metals, home prices will actually collapse. Another decline is highly likely.
Unemployment may be stable at 2.5% economic growth if we do not factor in new laborers entering the work force. We need to produce well over 100,000 new jobs just to keep up with new laborers. This is not happening now, and it will certainly not happen if and when the economy goes back into recession, which, arguably is right now, even though by official standards the economy is growing.
The economy is not only not close to the border in terms of self sustained growth, it has fled south, along with many illegal immigrant migrant workers who have realized that there are no jobs here. If our economy was self sustaining then we would not require another $600 billion cash infusion to keep jobs and equities markets propped up.
We are 100% confident that Ben Bernanke and his team of economic whiz kids do not have the ability to control growth in our economy, or keep inflation under 2% once it begins to spiral out of control.
Mr. Bernanke just told us exactly how this is going to play out – but you have to know how to read his forecasts. Hopefully we've shed some light on this for you.
Watch CBS '60 Minutes' Interview with Ben Bernanke: