It's the dawn of a new generation of luxury personal weaponary.
A total security unit for survival, home and travel designed specifically for upper income urban survivalists.
A Close Up of the Annihilator 2000: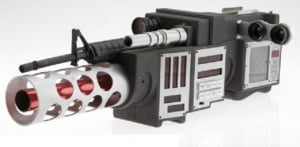 Specifications:
CD Player, Microwave, fax machine, phone, night vision goggles, microprocessor, digital AM/FM radio, video recorder and more. It also has a few guns. From the looks of it, a side mounted M-16, and a ridiculously large barrel for firing God knows what; hopefully its a rocket; you never know when the verbal alarm and M-16 won't be enough to scare away those dumb-ass robbers attacking your pad.
What can I say about this beautiful gun. It can devastate and and cook you dinner. In fact, if you happen to be stuck on a stake out and you need to report in, the phone is already there. Though, does this mean it's a cell phone or do you have to plug in to a wall? Multitasking makes the Annihilator 2000 the most bad ass gun on this list. While your killing baddies, it'll make popcorn and record the action, just so you can see how bad ass you were. Not to mention the phone and fax. Nothing says handling your business, while doing business.