Editor's Note: TJ Miller is the author of the incredibly informative book Beyond Collapse: Surviving and Rebuilding Civilization from Scratch and is a long-time contributor of survival related articles and insights in our community areas (under the moniker of Odd Questioner). You can keep up with TJ's musings at the Beyond Collapse Website.
What follows is yet another of his unique perspectives on survival. Should an emergency or disaster strike, there is a real possibility that you may be out and about in the city, or travelling, leaving you far from home with only your skills and 'get home bag' as your available tools. Being stuck in an unfamiliar urban environment during times of stability is challenging enough. Imagine what it would be like should law and order break down. In such a scenario, your survival will depend on your ability to camouflage yourself in urban environments, something TJ provides detailed instruction and strategy  for in the article below.
---
Don't Be Seen When You Cannot Hide -wait, what?
Picture this: You're in a big city. Excrement has struck the fan, and it's beginning to splatter. No, wait. Picture that you're trying to walk to work in a big city after your car broke down, a city large enough to have a huge and ongoing problem with crime (muggings, pickpockets or even excessive panhandling.) Or, picture both, or pick one. Makes no diff, because this little system I've figured down will work either way.
When most folks think of wearing camouflage, they think of some guy wearing some green splotchy thing as he creeps about the woods. Add the word urban to that, and you think of some guy wearing some gray and black splotchy thing as he creeps around the city. Well, toss those thoughts out, because what we're gonna do is teach you how to get about town without becoming a target, yet blend in perfectly. Perfect example? Let's pick on San Francisco. Why? Because, well, I'm currently typing this in SanFran, and it has all the elements we need for our discussion, so…
How To Be An Environmentalist Without Eating Granola
That's right – we're gonna study our urban environment. It pays to know what you're going to be walking around in, after all.
First up, what do we have here, people-wise? We have tourists, homeless folk by the metric ton, wealthy folks wearing incredibly expensive clothing, normal working schmoes wearing everything from dirty clothes (manual labor) to 3-piece suits (executives) to funky/off-beat crap (programmers and artists). If you're a guy, the short skirts and revealing clothing on the ladies also rank way up there (especially in summer…) A wide variety of people about, no? Now – who do you notice first? The flashy dressers and executive types, right? Well, if you're desperately trying to get out of a city mid-disaster, or just trying to walk through one at night without getting mugged, you probably don't want to be one of them.  Take notes of that kind of stuff, because we're not done studying things just yet.
Next up, what do the streets look like? Are there a lot of narrow streets, or is there enough room to walk near the curb without getting too close to a building corner or blind alley?  Where do the homeless folks curl up at night? Believe it or not, this is actually easy enough to tell if you know where to look (and, let's face it, smell). Building facades with a lot of nooks and crannies that are perfect for blocking wind are also perfect hidey-holes and sleeping-perches. Same with small blind alleys and parking/loading-dock entrances. They also happen to be perfect places for some unkind soul to lurk in wait for an unsuspecting victim, so learn to recognize where those potential spots are before you stroll up to them. If you walk certain routes frequently, get to know those spots intimately so that you'll know when to get your butt out towards the curb or –if necessary– across the street. Also, while you're peeking around, do you notice that some streets are natural for places like trucks and delivery vehicles to drive down, where loading docks and service entrances normally face? Yeah – may want to avoid those initially, but if you're dressed and behaved right, you can put them to good use if needed. Be sure to keep tabs on buildings which are unoccupied, dilapidated, or worse – squatters (and folks with ill intent) like to put such places to use if they think they can do so without getting caught. Vacant lots are also places to keep a good, hard watch for.
Now, go back and check these places and routes out at different times of day and night (the latter only if you're certain that you can safely do so). Notice that after a certain hour, the only tourists out on the street are either drunk , sniffing around for prostitutes, or sniffing around for some illicit substance (and yes all three types are idiots, but notice them anyway). During midday, you'll likely notice a lot of working stiffs out there on lunch break. In-between, and depending on where in town you are, you'll notice a mixture of just about everyone. Be sure to take notes on all of these and elsewise. You'll get to know when the 5am deliveries start rolling in to the stores. You'll get to know when the janitors finally call it a night. You'll get to know all of this and more. Again, start taking notes, eh?
One other thing to note – obviously if you're visiting on business, or vacation, you won't have (or want to waste) time to do all this homework beforehand. Good news is, you don't have to do it while you're there. If there is another big city nearby you can take a few exploratory trips to (or you live in one), you can at least get a feel as to what to look out for, and catch up quickly.
Dressing For Success – The Success Of Going Unnoticed
Now – remember all that talk about clothing earlier? Well, let's revisit that.
When you go to packing for a trip (or want to flesh out your get-home bag for those commutes downtown), that would be a very good time to look into what you intend to wear while you're there. I have a few ideas you may want need to consider…
Muted colors are your best friends. Avoid stuff that burns the retinas, and stick with grays, blacks, faded colors, or the like.
Get comfy – unless there is something dressy that you absolutely have to wear (like at some kind of ceremony or sales presentation), stick to well-worn and comfy clothing. If you have to wear a suit okay, but stick with clothing that you would wear if you were mowing the yard, or working on your car. Keep it clean and serviceable, but make sure it's not new or crisp. The nearest thrift store is a goldmine of clothes like this – I strongly suggest availing yourself of one.
Logos and controversial sayings are bad, so don't wear any. This goes for your jackets, shoes and outerwear too. Aside from the whole gang-sign thing (which can be an issue), a logo often betrays a lot more about you than you would like, and a logo unfamiliar to the area will advertise that you're not from around here. If you otherwise think you must, stick with neutral and non-specific stuff, preferably faded.
Speaking of shoes, always include a pair of worn, comfy but dirty shoes or boots. Something that you can (literally) walk for miles in. Be sure that you can walk for miles in them, because you just may have to, you know? By the way – this means that unless you're going to be on a beach, open-toed shoes, sandals, or flip-flops are also out.
Ladies? I know you like to look sexy (and Lord knows I like the sight of sexy women!) but… skip the revealing and "cute" crap if you can. Stick with "sensible" wherever possible. Let's talk about why for a moment: The idea in a potentially dangerous situation is to be ignored, not to wear clothing that screams "rape me!" to the wrong people. It doesn't matter how big and strong your spouse/boyfriend/whatever is; it only takes seconds to slit his throat from behind, leaving you rather defenseless. Suffice it to say that revealing clothing in a bad place (and/or bad time) puts you and your man-friend in potential mortal danger, so, well… don't.
Next up, let's talk about your grooming habits.
 leave the hair spray at home, or keep it to a minimum. Your hair will thank you, and fly-away hairs leave you slightly unkempt, increasing your odds of being ignored, or being thought of as not a worthy target.
Gents- thinking about shaving? Maybe every other day, or perhaps get a beard going. Again, the unkempt thing.
Certainly keep your teeth brushed and suchlike, but avoid strong-smelling mouthwashes, as they tend to impede your sense of smell of up to an hour or two after brushing.
Don't do cologne and perfumes. It makes no sense to look like an ordinary impoverished schmuck if you smell like you just stepped out of a ritzy perfume shop from half a block away.
Same with bright or stand-outish makeup, ladies. Keep it muted and light. Let your natural beauty shine through instead, so you can avoid standing out or  looking like a wealthy target.
Yes, shower regularly while you're traveling… duh. It's the best way to keep clean and avoid a lot of germs. However, avoid strong-smelling armpit deodorants and such. Same reason as #4, eh?
How To (Properly) Walk The Streets
This part is harder than it looks, but if you've been following the advice in the book, you'll find it much easier to do. Here's a few good, hard rules of etiquette when you're walking the city streets. There's a lot of them, so take your time…
Unless a cop is giving you an order, never ever answer a voice spoken in your direction, even if you know it's you being spoken to. From panhandlers to criminals and con-men, all they need is for you to grant them a moment's attention, then they have you. Ignoring the voice lets you keep walking. Be sure to keep an eye in the speaker's general direction just in case, but 99 times out of 100 during the day you'll be able to keep walking without incident. Night carries a different ruleset, but only insofar as you need to start thinking about weapons and escape if you hear that call and it's not coming from a panhandler. Note that in a pure SHTF situation, if a cop is giving you an order, you may want to start thinking immediately about escape as well, but use your judgement.
If you bump into someone gently, just keep walking, muttering an "excuse me" as you pass.
If you bump into someone hard or anyone bumps into you at all, immediately (but discreetly!) put a hand over your wallet, grip your purse tight against you, and insure that any luggage (e.g. backpack) you're carrying is still secure (as you're still walking!). Inspect of any suddenly opened zippers on that backpack.
Keep your wallet in your front pants pocket if possible, otherwise in a jacket or folded over your pants front. You'll know immediately if someone is reaching for your chest or your crotch long before you'll notice someone reaching for your back pocket.
Ladies – you probably already know about safely carrying a purse, but as a reminder? In the city, it's not a purse, it's a football, and you're the linebacker. Short straps are better than long, and thick better than thin.
Backpacks? Wear both straps, like it was built for. use a twist-tie (same color as the backpack material) to keep the zippers tightly closed while walking through dangerous areas – that way you'll know if someone is trying to get into it from behind while you walk. Wearing the backpack on fully also prevents someone from snatching the thing off your shoulder. As a bonus, it's more comfortable over long distances. If you insist on wearing it over one shoulder (because everyone else is), keep a very tight grasp on the strap, and use you're non-dominant hand/shoulder to hold it – this frees your dominant hand to fight back (grab, punch, etc) if someone tries to grab it.
Always keep a look out ahead of you, on the sides, and occasionally behind you. Increase those looks back if the situation turns to crap.
Walk confidently, always. A confident walk means you're not a timid target.
Never, ever, ever look lost. Go over your route beforehand – in the age of maps-on-a-phone, you have no excuse anymore, and paper maps are still very plentiful.
If you do think you're lost? Duck into a nearby store if one is open, and only then get out your phone or map, checking it while inside. This camouflages the idea that you're lost, and helps you get your bearings in a relatively safe place. If nothing is open, find a safe indoor place to check (bodega, hotel, gas station, whatever) – be sure to buy something if it's a small shop, so you don't arose the suspicion and/or ire of the clerk.
Don't buy anything with a bill larger than a $20, and never keep cash in your wallet (keep the cash in a front pocket or something.)
Standing around (let alone sitting) is a really bad idea. If you have to rest, do it in a shop, store, or restaurant.
…there's lots more, but this should be a good start.
So Far So Good
So far, I've stuck to these rules, and they've worked out very well – I'm scruffy-looking enough to be mistaken for a local homeless guy (thus ignored) by tourists and petty thieves, but not enough so as to fool the local constabulary (The cops can see the fact that I bathe daily and am well-nourished, don't look down-and-out attitude-wise, and don't hang around in any one spot). With my worn clothes, old shoes, and old, dirty (but solid) dark and nondescript backpack, there's no hint as to what I'm actually carrying – let alone what I do for a living (nearly half of the people I interact with have the letter "C" in their titles). I can actually wander around a lot of places that a tourist shouldn't go, and have so far been mistaken for a local by most of the locals working in the shops (well, until I open my mouth and let the Ozarker drawl fly forth, but that's a different story. 
)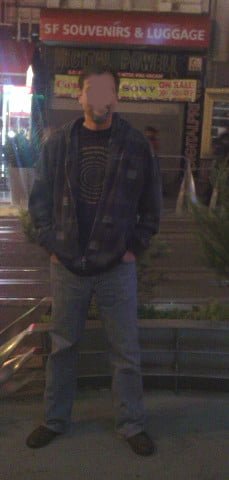 (Pictured: Your humble author, out where he shouldn't be.)
Note in that photo above, your author is sporting the latest in OPSEC fashion. We begin with the used gray hoodie-wear (the hood comes up in cold or rainy weather, or when I really don't want to be noticed). We continue with a faded old black t-shirt and faded, ratty-cuffed jeans (note that you do not see the layered shirts underneath for warmth, or the – well, I'll stop there). Completing the ensemble is a pair of dirty old shoes that are still in perfect working order, and are rubber-soled for long-distance walking comfort on concrete (and more importantly for walking silently if need be). The beard and 5 o'clock shadow complete the air of 'ignore-me-I'm just part of the furniture here', and the tousled wind-styled hair shouts both sex appeal and (more importantly) non-wealth.  Photo was graciously taken by a kindly hotel concierge who was at first rather amazed at what he thought to be some panhandler wanting his picture taken with a pricey smartphone. After I unlocked the phone, he relaxed a bit and obliged me. Kinda cool how that works out, no?
TJ Miller is the author of the incredibly informative book Beyond Collapse: Surviving and Rebuilding Civilization from Scratch and is a long-time contributor of survival related articles and insights in our community areas (under the moniker of Odd Questioner). You can read an excerpt from the book here and you can follow with TJ's musings at the Beyond Collapse Website.