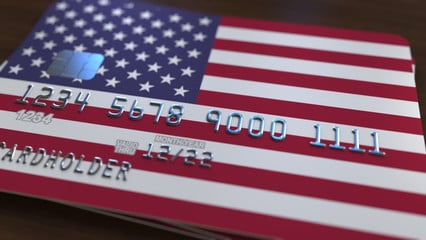 Because credit card rates are so much higher now than they were in the past, even a mild recession could crush those who carry credit card debt.  The current national average interest rate on credit cards is 17.61%, just shy of the record set in July. By comparison, the average credit card charged about 13% when the Great Recession began.
According to CNBC, this overlooked issue of high-interest rates on consumer goods and credit card purchases are going to be incredibly difficult to pay for people during the next recession.  Whether it's mild or severe, and an economic downturn could really hurt those carrying a balance.
Nearly 25% of Americans Are Using Debt To Pay For Necessities Like Food
The so-called "private label" credit cards (often known as store credit cards) are experiencing the highest severe delinquency rate since 2011, according to Equifax. Delinquencies are ticking up even amid the media's glowing reports of a "10-year economic expansion." The Consumer Financial Protection Bureau reports that in 2018, about 9% of general-purpose credit cardholders and 4.5% of private label cardholders had at least one severe delinquency in the preceding 12 months.
Millions of Americans are living dangerously close to the financial edge.
Living Paycheck To Paycheck: The New Crisis And Normal For The American Middle Class
Just 35% of Americans have enough savings to cover three months' expenses, and 28% have no emergency savings at all. Additionally, 39 million U.S. adults have been carrying credit card debt for at least two years, and another 8 million can't recall how long they've been in debt. A quarter of debtors expect to die in debt. All of this despite an extraordinarily low unemployment rate of 3.7%. I fear what could happen to credit card debtors if that rises to 5%, 6% or 7%, let alone the 10% we saw in 2009. –CNBC
The Federal Reserves states that the average American holds $5,700 worth of credit card debt.  That means cutting the interest rates a quarter of a point would only save them $1 on their minimum payment. It also means those minimum payments would stretch nearly 20 years and cost about $7,500 in interest (more than double the principal).
Credit cards are often a trap for the middle class in the United States, as people fall victim to consumerism and the ease of paying with plastic.  This trap could crush them during the next recession, so take the steps necessary to prepare for an economic problem early.

There's one sure way to whip your finances into shape, and that's with The Total Money Makeover: Classic Edition: A Proven Plan for Financial Fitness
. Dave Ramsey's plan has helped countless people with their financial problems for decades.
By now, you've heard all the nutty get-rich-quick schemes, the fiscal diet fads that leave you with a lot of kooky ideas but not a penny in your pocket. Hey, if you're tired of the lies and sick of the false promises, take a look at this—it's the simplest, most straightforward game plan for completely making over your money habits.