Editor's Note: The following article has been contributed by well known relocation and survival retreat expert Joel Skousen and the Strategic Relocation Blog. Last week Mr. Skousen focused on retreat locations for those living in high population centers located in the southwestern part of the United States like Los Angeles and Phoenix. This week, we switch coasts and head to the Southeastern U.S. 
As always, Mr. Skousen provides some highly informative insights that should be considered prior to any strategic relocation move, whether it be permanent or a secondary location to be used in case of an emergency. Whatever your locale and specific goals, the recommended strategies and selection criteria outlined in this and previous Strategic Relocation Briefings can be effectively applied by anyone in almost any situation.
When you're ready to start searching for your perfect home or retreat visit the For Sale By Owner listings at the Strategic Relocation web site. Real estate is available for those living in any part of the United States and most listings include survival ratings provide by the Survival Retreat Consulting team and/or Joel Skousen.
---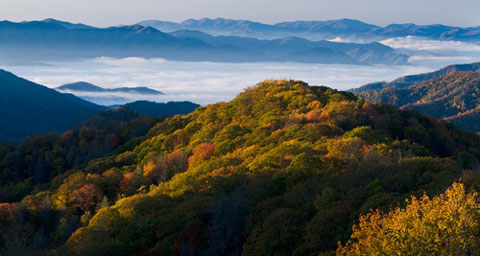 (Pictured: Great Smoky Mountains, Tennessee)
Weekly Strategic Relocation Briefing—Eastern Tennessee, Cumberland Plateau
By Joel Skousen
Author, Strategic Relocation and The Secure Home
Before I cover the area of focus this week, let me remind the SHTFplan readers of the purpose of these weekly briefings. They are not designed to promote 'this weeks' locale as perfect for everyone, as no area is perfectly safe or meant for everyone.  These briefings are meant to be a catalyst, so you can discern for yourself from the available information what's best for you and you're family. If, each week after reading these briefings they begin to help you take inventory of your current situation and then make well planned decisions on what to do and where to go, then your time reading my articles will have been well spent.
Speaking of population density; In fact, safety from population threats are directly proportional to how far away you are from people, but that also has high costs of its own.  If you get too far away from people and commerce, then your commuting costs back to civilization rise dramatically as do the cost of bringing in materials, supplies and getting skilled labor to do building and technical repairs, so everything is a compromise at some point.  Knowing how to make wise compromises is the essence of good planning. Also, we all know that you don't have to have a lot of money to make a strategic relocation and buy a property, so don't be discouraged. There are opportunities to live a more sustainable lifestyle, be it as a caretaker on a larger survival property or to buy your own small parcel of paradise on an owner contract, it can happen if you work towards your goal.
We'll be covering lots of other places in due time.  In the meantime, everyone can learn something from the analytical process we go through each week in discussing each new area.
This week I'm focusing on Eastern Tennessee and the Cumberland Plateau as one of the best retreat sites in the SE United States—for people in the East that work in high density urban areas and need a place within a reasonable distance to retreat to.
Fifty percent of the US population is within 600 miles of Nashville, TN, which is both an advantage and a disadvantage.  The advantage is that people who have to make a living in the big eastern cities can find refuge at a reasonable distance. The disadvantage is that you can't expect to evade all refugees that flee the social unrest in the population centers of Atlanta and other large cities on the East coast.  Most of those waves will move inland along the major highways, and branch off into the rural countryside only after scavenging what they can from the towns closest to the big highways.  This process isn't all bad since it absorbs the flow and lessens the threat the farther away from major cities you get.
Tennessee as a state has several advantages for those looking for permanent relocation.  It is a "no income tax" state with a fairly moderate climate.  It has a lot of rural productive farmland too.  But it does have a fairly high sales tax to compensate for no income tax, and its population density is nearly 160 people/sq. mi. (18th in the nation).  While the state has a Republican conservative majority, its Republican Governor and Senators are very mainstream and play along with the big government agenda that bothers constitutional conservatives. Particularly bothersome to conservatives is the Governor's allowance of TSA to run checkpoints on highways in the state.
The Blue Ridge Mountains to the east are also highly rated—perhaps too much so.  They have attracted moonshiners for hundreds of years as well as law enforcement surveillance.  And there are complaints from new comers buying into rural mountain land that the "natives are less than hospitable" to outsiders. The western Blue Ridge Mountains, have several sub categories such as, the Great Smoky Mountains, the Bald Mountains, the Unaka Mountains, the Unicoi Mountains, and Roan Highlands, and the Iron Mountains.
Between the Blues and the Cumberland Plateau is a series of ridges and valleys traveling at an angle parallel to the Blue Ridge Mountains.  These ridges and plateaus are important barriers to travel, and one of the reasons why this area provides good retreats.  Make sure you know the lay of the land in the area you choose because you often have to go NE or SW a fair distance before being able to cut through a ridge to go West.
The original Cumberland Gap is the most famous historical path through the mountains and is way up on the Tennessee/Kentucky border at the town of Harrogate.  Hwy 25E goes through the gap and there are many other gaps now accessible to roads. The primary one is I-40, which crosses the plateau to Crossville and I-75 going north to Lexinton, Kentucky and both branch off at Knoxville.
The valleys between the ridges and plateaus are all fertile, with a river, but not as safe as the mountains or plateaus themselves. The Tennessee River flows down the "Great Valley" next to the Cumberland Plateau and is dammed up at intervals by TVA dams. Knoxville is found in the north of this ridge/valley system and Chattanooga in the south.
The Cumberland Plateau itself is my highest rated area in Tennessee for retreats because of its unique geography—a plateau approximately 1,000 feet off the valley floor, but with flat land or rolling hills on top for good homesteading. The imposing heights of the plateau is readily visible from the roads below and tends to discourages most people from wanting to go there when it is so easy to stay in the valleys where there is more food and commerce. There is plenty of water available up on top and relatively cheap-forested land, but no major cities to attract people and the people themselves are not as reclusive as those in the mountains to the East.
I prefer the southern half of the Plateau, south of I-40, because it has a larger land area with mildly rolling terrain. There is, however, a nuclear power plant in the Tennessee River Valley (Watts Bar) at Spring City, Tennessee, east of the plateau, but it is not much of a threat since the plateau is not downwind of the Nuclear plant, should it experience a meltdown.
Another specific drawback of the geography of the Plateau and much of the Tennessee and Kentucky region is the presence of a lot of rock just under the topsoil that makes the installation of basements difficult or costly to implement.  I feel very strongly about having concealed basement space not only for sheltering people but supplies.  So be careful to investigate the depth of soil before you buy a plot of land. Fortunately, most areas have about 2-4 feet of topsoil, so with the rolling terrain you can still include a basement by using a combination of the slope of the land and some earth berming to achieve a daylight basement, with your secure portions the farthest into the hill.
There are a lot of large tracks of land on the plateau but very few actual working subdivisions with small tracts of land for the budget Prepper. There are several that started up just before the real estate crash and most of them went under financially.  Of those that survived and prospered, most are the higher end type of development and the nicest of those is Long Branch Lakes development.  Here's a video review of Long Branch Lakes, just to give you an idea of the beauty of the area and what can be done on the plateau.
Another excellent development is called Swanee Creek, at the far southern end of the plateau.  It has an active community of people who enjoy the Prepper lifestyle, with their own online newsletter where they share information and encourage community activity.
StrategicRelocation.com has at least one of these large tracts of prime plateau land listed, which both Todd Savage and I have rated highly, and more are coming soon.  I've been to the plateau area several times and know several of the landowners there.  They are great people and very Prepper oriented.
One in particular worthy of mention is Jimmy Yates, who single-handedly built up his own private rustic estate called Hard Times USA. Jimmy has placed on his property almost every kind of restored relic from the past, from machinery to antique wagons to country stores and real log cabins, nestled among the man-made lakes.  Every year on the first weekend in October he opens Hard Times USA to the public and has kind of a folk festival there with food, music and wagon rides. Here's local website that posted some pictures from the 2012 event.  I'll be there this coming year at the October 4th gathering.  Hope to meet some of you there.
Not too far from Hard Times USA one landowner has small smaller, economical acreages for sale that will suit the budget minded Prepper.  For more information, Contact Tisa Dixon at this email address.
For those of you in the East, and Southeast in particular, I think you'll enjoy checking out this part of Eastern Tennessee.
Survival Retreat Consulting: Joel addresses one of the major flaws in many Preppers overall planning for a major event; can you get there? Just like politics, you can debate all day as to what location is best, or the fact that no place is safe anymore. In reality, none of this matters if you can't move quickly with your properly stocked bug out bag and actually reach your destination.
The Cumberland Plateau allows one of the most reasonable retreat locations to arrive at quickly during a serious event, if you are unable to live full time at your retreat in another location such as the American West (Redoubt). The area is full of like-minded Preppers that are determined to survive any calamity. One could say that this area is better for long-term survival than the Pacific Northwest in many ways such as food production from the milder climate and the resilience of the population to weather and social issues.
SRC Promotion: If you're looking to replace your worn out batteries on your alternative energy system, take a peak at Iron Edison. SRC highly recommends Brandon and his crew now that they manufacture the world's finest nickel iron batteries in the USA. They also offer complete packages for your home or RV ranging from 2kw up to an over 10 kw of power, for those that want a turnkey solution quickly as the world teeters on several major events. Mention SRC to Brandon or Maggie and receive a discount on your order, or sign up here.
When you're ready to start searching for your perfect home or retreat visit the For Sale By Owner listings at the Strategic Relocation web site. Real estate is available for those living in any part of the United States and most listings include survival ratings provide by the Survival Retreat Consulting team and/or Joel Skousen.
Recent Strategic Relocation Briefings:
Idaho: A Five Star Rated State for Your Survival Retreat
For those living in Southwestern high population centers:
Northern Arizona – The Makings of Some Good Retreat Country
An Expanded Western Relocation Zone