SHTFplan Editor's Note: The idea of surviving in a post-collapse world has often been romanticized in novels and 'reality' television shows. The systems goes down, chaos ensues, those who prepare survive and end up at the top of a fallen society. It's a story we all want to believe and idealize, but the reality is starkly different.
When it hits the fan it will be nothing like we have ever imagined. Save for those who have spent time in a war zone, most of us cannot fathom the destruction, death and destitution that will come with a destabilization of our economic and political systems.
Long-time community contributor Selco, from SHTF School, has seen what a real collapse looks like. He lived through one year in hell when the world as he knew it completely fell apart in the Balkans during the 1990's. As Selco tells it, one day he was enjoying life just as we are today. Things were stable, food was plentiful, and people were civil.
The next day it was all out war and neighbor was killing neighbor for resources – and sometimes for fun.
Reality is brutal, and no one paints a more vivid picture of a post collapse world than Selco, because he's seen it with his own eyes.
It's going to be violent. It's going to be brutal. And people will die indiscriminately.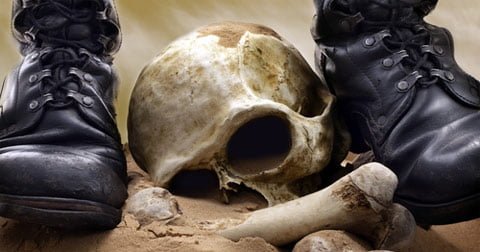 About some survival myths
By Selco
The world of survival and prepping is full of prejudices and misconceptions so you can read and see lot of stuff, some of them do not have anything to do with reality because people are so used to believing what they want to believe.
Other opinions are there for more sinister reasons, for example someone wants you (us) to think that something is true just because it is nicely packaged. Get this latest special close distance gun and you are safe! When every gun in good hands can do this.
A few years ago I read about an idea that some guy wrote on some survival forum that using a skateboard as a transportation device to move in an urban environment when SHTF is a good idea.
Other guys commented (mostly) positive on that idea. The fact that the guy who wrote that never actually experienced urban SHTF is important here – neither he or the guys who appreciated the idea.
So after reading that thread, and after reading positive comments on the idea you could easily conclude that riding a skateboard through the city when SHTF is an absolutely cool idea.
You are gonna form your opinion based on some guy's idea, and other guys positive comments. Everyone agrees and their reasoning makes sense too. So now this idea can spread.
And of course people are gonna figure out when SHTF that riding a skateboard through the city makes as much sense as screaming "I am idiot, please shoot me." Maybe later you are gonna use it as a fuel for fire, or a setup for some primitive cart, so I agree, having a skateboard is better than not having anything.
Using a skateboard in a dangerous urban environment where you should move slowly and carefully? Good idea too because it speeds up natural selection.
The examples are numerous, and while some of them are just funny, others are more serious, and can kill you in a post collapse world.
Very often you find discussions about battle, combat and similar on blogs and forums, and after reading most of that you may come up with a lot of choices, and because most of the discussions about combat are nonsense you will probably make some wrong decisions.
While riding a skateboard when SHTF sounds stupid, you will probably see that it is wrong idea very soon, but remember that when it comes to battle wrong decisions today will probably kill you when SHTF.
Nobody gonna forgive you your wrong decisions when SHTF. Your wrong decision is another guy's lucky day.
Let's go over the few usual "truths" about combat, battle, fighting, violence etc.
Right (good, truth, God…) is on my side, I (we) will prevail, win, survive…
Forget it. Nobody cares for reasons and what is right and what is wrong when SHTF. If you think that you have an advantage just because you are good man you are so wrong.
The first thing that completely breaks apart is the concept of good will win or "fairness." We only have these ideas because of living so far removed from nature.
Nature is brutal and good dead man is still a dead man. You're gonna find yourself in situations when you wonder why this guy died and why this family vanished. People now hope for system, like epic fight of good vs evil. Not gonna happen.
Everyone's life is in danger, we are just preparing to make it harder for nature and others to get ours.
And history is written by the winners, so do not trust too much in it. Very rarely are you gonna see the full and true story of survival without make up either because political or commercial reasons.
Those who are prepared and are willing to adapt will survive. Those who can throw out society's conventions fast and see all of the possibilities will have the advantage.
Of ourse I strongly suggest doing good, SHTF or not SHTF, but please do not expect that being good will save you.
Violence is reserved only for certain types of people
Why people do violence is a topic for some other bigger discussion, but it is wrong to think that only certain types of people will (effectively) use violence.
I have seen school teachers stabbing other folks, or skinny ladies shooting from machine gun. That moody evil lady down the road? She might become vicious killer.
Especially when things start to settle after first weeks, do not turn your back to anyone you do not trust 100%.
You also have to be sure that you are able to do violence. And what's more important is that you need to be ready to do violence, physically and psychologically.
With thinking "Oh I can not do that" you are one big step closer to losing the game of survival right at the beginning of SHTF. In regular society violence is not normal, in post collapse or survival situation violence is part of life (even if it is just hunting or slaugthering animals if you are lucky and live in countryside).
How people REACT to violence is an altogether different thing. And you need to be ready to have problems after doing (and suffering) violence. You can not get away from that.
I have seen people crying like babies after doing it, others puking, some had nightmares…
Even the toughest guys who had gone through the whole period like "tough guys" suffered years later. You can not escape from that. Be prepared for that too.
I have the most beautiful (expensive) equipment, weapons, ammo… I will survive
Yeah, it is cool to have best stuff. But do not get yourself in a situation where the stuff owns you – instead you own the stuff. Good stuff does not make up for lack of skills.
I have seen guys (women and children too) getting killed just because they were not willing to leave their stuff and run when the time came. It is stupid to get killed just because you love your possessions too much.
When it comes to your stuff be sure that you are ready to leave it in a split second if the situation calls for it.
What does that mean in reality? If you choose to defend your home from looters even if that means that you will be killed for sure, it is very stupid. Your escape plan is as important as your perimeter defense plan.
If you own a rifle that is just too precious, too different it does not make too much sense either.
I am a very skilled shooter, I know how it is gonna be, I 've seen it (in movies, documentaries…)
I can write pages and pages about being in battle and still you could not get the real picture because it is something pretty much unique.
It is chaos.
Forget about movies where guys are making jokes while shooting from machine guns at some folks. Sometimes I would go through one whole ruined apartment building, shooting at the same time, and later I could not really recollect all details.
It is so intensive that you are burning out in those short moments of intense physical and mental stress in order to stay alive, to survive that fight. It is like being in some sort of tunnel and you become very much like an animal.
People say this is good, because it is very old and the real side of us that comes up and tries to protect us.
I knew a guy who was screaming while he and a few others fought with some group. He was screaming all the time during that fight, maybe some 20 minutes or half hour, and he was not even aware that he was screaming. When all ended he found out that his mouth was open, and he was trying to continue to scream but nothing was coming from his mouth.
He lost his voice for few days.
After some time I am gonna get used to the violence
Well, yes and no at same time. You can do violence better (more effective) after some time of doing it, but you are not gonna get used to it in terms of that you do not care about it, or that you not gonna have some issues because it.
Rare people can do that. You are probably gonna have some periods of "numbness" on violence, or periods without feelings actually, but that will pass.
I'm not jolly good fellow bringing only good news and definitive solutions to keep you alive. (There are none, you can just make chance to get killed or dying smaller by knowing more and making better decision)
But it is important to understand this side of survival. It is not romantic, it can not become comfortable no matter how hard we prepare. If you like to hear more about this, join my survival course in which I talk about my whole year of surviving in city under siege.
You can follow Selco's story at SHTF School and learn how he survived one year in hell. 

More Excellent Reading From Selco:
A Survival Q & A: Living Through SHTF In the Middle of A War Zone
Advice From A Collapse Survivor: "RUN!" From Major Cities
Collapse Reality: "If I Had to Be an Animal, I Was an Animal. It Was About Survival."