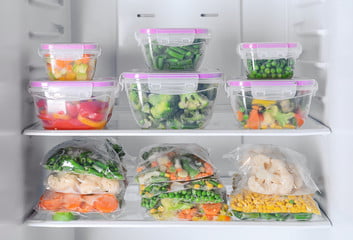 Toilet paper has become the hottest commodity of 2020 thanks to the panicked masses boarding it in the hours after the coronavirus was dubbed a pandemic by the World Health Organization on March 11. But most preppers already had enough toilet paper, so instead, it may be better to stock up on healthy frozen foods that will keep your immune system going strong during these difficult times.
It's best that preppers continue to stock up on frozen foods and canned foods since they have a longer shelf life than fresh produce too. During a pandemic, overall health should be the most important thing. It sure doesn't seem like it is though when stores are sold out of the wrong frozen foods like TV dinners and frozen pizzas.
Jennifer Presson, a nutritionist at St. Francis Hospital in Memphis recommends people start stocking up on frozen vegetables, frozen and canned fruits, and whole wheat pasta instead of processed foods.  Depending on what you have purchased or what you may already have in your freezer, Presson said there are a lot of meal options you can make for your family that is still healthy.
"Instant brown rice, instant quinoa, things that we can cook really quickly," she said according to Boston 25 News. "Add some canned beans to frozen vegetables and make kind of a grain bowl on a whim." If you don't want to leave your home, and some will not, there are still some bulk canned goods left to buy online.
But don't just stock up. That's an important step in getting a prepper pantry ready to go for a crisis, but you should be trying to learn to garden and save your food too.  Becoming more self-sufficient will help relieve some of the fears many Americans are currently feeling. You might enjoy fresh vegetables, but going to the grocery store can be taxing on some, especially those who are in a susceptible age group or health concern.
Prepper Foods and Supplies to Survive Coronavirus Without Leaving the House
Canned Green Beans and canned peas are still available. While not as good or nutritious as fresh produce, they'll still give you at least some of your vitamins and minerals. Peanut butter is also great to stock up on and store for the long-term. An unopened jar of peanut butter will last about 2 years when stored at room temperature. It's also a great source of healthy fats and provides a good amount of protein, along with essential vitamins and minerals, such as magnesium, potassium, and zinc
Best Immune System-Boosting Foods To Get You Through Flu Season
Prepping For Two Week Quarantine: Emergency Food Supply
During difficult times, it can often feel easier to just get food that's already prepared whether it's good for you or not.  When we're facing an infection (and most health officials believe this coronavirus could come in waves), it's best to err on the side of health and eat foods that will get your body ready to fight off  a virus rather than foods that could leave you more vulnerable.
Why Sleep Is VITAL During A Pandemic
How To Stay Healthy During Flu Season And Prevent Coronavirus Infection