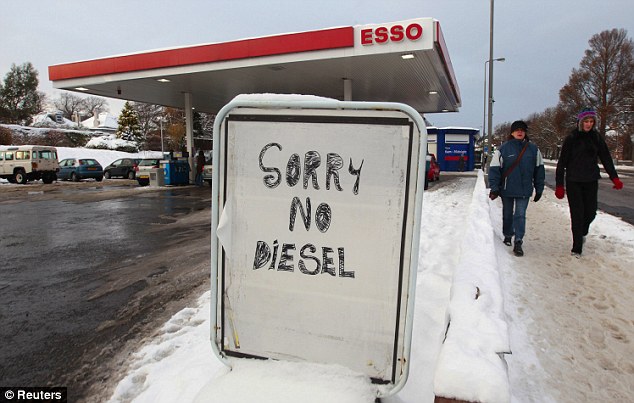 Last winter, as blizzards hit the US and Europe, an earthquake hit Haiti and a Tsunami threatened Hawaii, we ran several stories pointing out the potential weaknesses in our just-in-time transportation delivery systems, utility grids and emergency response capabilities.
We have yet another example from England, which should be a wake up call to those who have never considered having at least some basic emergency supplies on hand.
Food and fuel were running out in some parts of Britain as the big freeze continued to make deliveries impossible.

Supermarkets were battling to keep their shelves stocked with staple foods such as bread and milk and petrol retailers were running low dry on fuel as lorries struggled to complete deliveries in the icy conditions.

The Independent Petrol Retailers Association warned that up to 500 independent petrol retailers in Scotland and the east of England risked running dry by the weekend.

It stated that road tankers have been unable to leave the main terminals from two refineries from the Total SA (TOT) refinery at Lindsey and from the Jet refinery at Killingholme,  both on south Humberside, effectively "cutting the supply chain off at its knees".

Panic-buying was also adding to the problem as consumers stocked up on essentials.

Consumers have also been stocking up on shovels, water bottles and thermals as the big freeze continues to bite.

Marks & Spencer reported a 121% increase in sales of thermal clothing in the past week while Sainsbury's said it had increased its stocks of long-life UHT milk which has seen a 20% rise in demand.

Although the weather is expected to improve slightly over the weekend, further freezing conditions are forecast for next week.
When an emergency or natural disaster strikes, and for most of us it will at some point in our lives, you can either be prepared and have everything you need to survive at home, or you can be this person:
Panic-buying: No bread at Tesco in Tunbridge Wells as shoppers were urged to show restraint (left) and milk runs out at Sainsbury's in Mansfield (right).
Hat tip Goldenfoxx