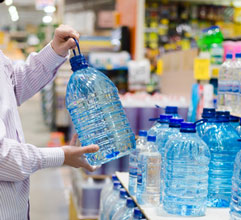 This article has been generously contributed to our community by M.D. Creekmore and The Survivalist Blog.
This morning as I was trying to catch up on my email (I get a massive amount of email each month, last month over 3,000), I opened a great one from John W. In a nutshell  John, is new toprepping and hasn't really done anything prep-wise yet, but he has been thinking and making plans.
John said that he has his home on two acres paid-off, and that he has a job and works to support his wife and two children (one 6 and the other 9 years old). He said that he knows from all of the newsand the tell-tell signs that something big is coming, and that his main fear is a total economic collapse.
He said that he has $10,000 to spend on preps and that he wanted to be ready as quickly as possible, without all of the buying a can of food here and another can another day or a few extra cans each time he goes to the grocery store. He also insists on long-term storage foods, with a shelf-life of 25 years or more, because he doesn't want to be bothered with all of the rotating and other stuff involved when stockpiling perishable foods.
John's question to me was, if you had nothing prep-wise, and just starting out and wanted to be ready within the next month and with a budget of $10,000 what would you do and buy to be prepared as quickly as possible?
I'll answer that question below.
One Year+ Food Storage for Four People 
To start I would order the Augason Farms Deluxe 4-Person One Year Kit – the $3,999.99 might seem like a lot at first glance, but considering this package will provide 21,116 total servings and approximately 1,300 calories per day per person, with a 30 year self-life it's really a pretty good bargain, especially for those wanting to get prepared NOW.
The Augason Farms products make up the bulk of my long-term food storage and I can attest to the quality and taste of their products, the Honey Coated Banana Slices are absolutely delicious!
I would then order four of the Survive2thrive 100% USDA Organic 40-day Nutrition Emergency Food Supply Buckets, then I would top it all of with eight gallon of cooking oil (store it frozen and it will last a long-time), 32 pounds of salt, yes, some salt is included with the Augason Farms Kit above, but salt is cheap and has so many uses you can't have to much.
Add another 35 pounds of sugar, and an extra two buckets of Augason Farms Country Fresh 100% Real Instant Nonfat Dry Milk in the 14 pound buckets with a 20 year shelf-life. Then I would add an assortment of herbs and spices for cooking and about 10 pounds of assorted hard candies for threats for the kids (and yourself).
I would also add 12 large jars of peanut butter, 24 cans of SPAM and 12 canned hams.
If you drink coffee be sure to add that in the amounts you normally consume over a 12 month period. And don't forget multivitamins and extra vitamin C.
Total cost around $5,500 dollars for a family of four.
Protection and Foraging
If I had no firearms now (get training) I would buy a Mossberg  500 Combo package and 100 rounds of 00 buckshot, 50 rifled slugs and 200 bird shot (preferably #6 shot), then I would buy a Ruger 10/22, 1,000 rounds of .22 ammo and five of the Ruger factory 25 round BX 25 magazines.
Total Cost around $750
Water Storage and Purification 
I would store as much tap-water as possible (limited by space) in every suitable (but free container – avoid the plastic jugs, they are weak and fall-apart after a few months) that I could find. Then I would order a Big Berkey Water Filter and a set of extra elements.
Total Cost Around $350
Food Production
John said that he had two acres of paid-off property, so I would find the best place (most level, sun exposure and best soil) and have the largest area that I could work tilled and add as much free organic matter that I could get, check with any local large production chicken, horse or dairy farmers in your area, most of the time they will give you all of the manure that you need if you'll haul it away.
Spread this on your newly tilled garden plot and till again, now cover this all with about six inches of straw and throw some old lumber on top to keep the straw in place. Leave it to compost in the ground over the fall, winter and into spring. When it's time to plant in late spring, till it all up (including the straw) again and plant.
If I did not already have gardening tools on hand, I would get a good quality shovel, hoe, and a bow rake, spading fork,  a big box of  Miracle-Gro all purpose plant food  and a copy of Gardening When it Counts.
Then I would build a small chicken coop from mostly scrounged building material and buy 8-10 six-month to one-year-old chickens or ducks. Then I would build rabbit hutches along one of the side walls of the coop and buy two does and one buck for breeding stock.
I would also plant fruit and nut trees everywhere that I have space on my property…
Total Cost Under $650
Power Production
I would order a  Renogy 200 watt solar panel kit, panel mount, and marine battery,  solar 11-in-1 battery charger, rechargeable batteries, and a gas powered portable generator. Then I would getfive-5 gallon fuel cans and fill with gasoline, add STA-BIL fuel stabilizer, then rotate every year.
Total Cost Around $800
Random Items 
Two hundred and sixty-five rolls of toilet paper, (more if you have room), 24 tubes of toothpaste, 48 toothbrushes, feminine hygiene products (ladies you know how much you'll need for a year – I stay as far away as possible during that time), 24 bars of soap for bathing, 24 56 FL OZ bottles of dish-washing liquid, (can also be used for hand-washing of clothing.
A good first-aid medical kit (get training if you need it and include any personal medications), download free copy Where There is no Doctor and Where There is no Dentist and print them to paper orjust buy copies from Amazon.com.
Then while on Amazon.com, I would order a Zoom Versa Stove, aKaito Voyager Pro KA600 Digital Solar/Dynamo AM/FM/LW/SW & NOAA Weather Emergency Radio and two sets of Motorola MR350R 35-Mile Range 22-Channel FRS/GMRS Two-Way Radiosfor family communications when separated from family members.
Cold weather sleeping bags for every family member.
Total Cost Around $900
Conclusion 
As you get more money put in a wood stove if possible, or at the least a propane wall heater and enough propane to last a winter. Having both a wood-stove and propane is a better and more flexible solution.
Then add a good handgun or two (I suggest a the Glock model 19 and a Browning Buckmark) extra magazines and ammo. Then look into buying a center-fire rifle, this can be something like an AR-15 or even a 30.30 lever action.
And get all of the training possible. Not only firearms training but, medical, auto mechanics canning, wood-shop, sewing etc. you can never know too much.
Add some non-hybrid garden seed.
So there you have it folks – how to get a family of four quickly prepped to survive for a period of one year or longer – in the easiest way possible… and at a total cost of under $10,000 (approximately)…