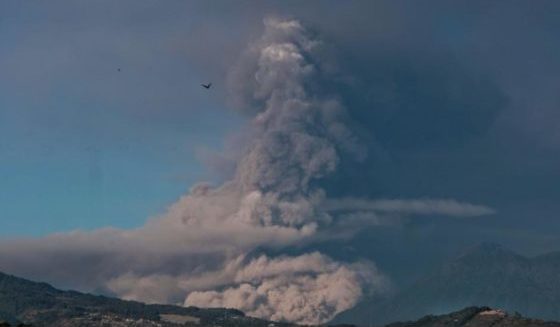 Guatemala's Volcano of Fire began erupting early Sunday.  So far, the volcano has spewed lava, ash, rocks, and deadly hot gas onto hillside villages, killing at least 25 people Sunday and displacing more than 3,000.
Officials still expect the death toll to rise.
The Volcán de Fuego, or Volcano of Fire, began erupting ash and lava early in the day, according to local reports but just hours later, fast-moving flows surprised communities that had not been ordered to evacuate. Ash spread through the sky and covered the capital Guatemala City some 40 miles away, according to NBCNews.
A mix of red-hot rock and gas, known as pyroclastic flow, rushed down the mountainside and engulfed villages. Unlike slow-moving lava, which people can walk away from, pyroclastic flow can reach extremely high speed. The pyroclastic flow killed some people in their homes.
Sergio Cabañas, head of the country's National Disaster Management Agency (Conred), said the town of El Rodeo had been "buried". Other towns affected include Alotenango and San Miguel los Lotes. Rescuers are still trying to reach a number of villages.
"Not everybody could leave — I'd say they were left buried," Consuelo Hernández, a resident of the town of El Rodeo near the volcano, told the local el Periodico newspaper. "Where we live the lava was coming down an alleyway… we ran to a hillside. If there are people buried, the lava came over the plots of land and streets."
Around 3,100 residents of communities near the volcano were eventually moved. Twenty were sent to the hospital, according to Guatemala's CONRED national disaster management agency. Warnings about mudslides persist in the area. According to BBC, hundreds were injured and many are missing while the country's main airport is closed.
President Jimmy Morales has also declared three days of national mourning. In a statement issued late on Sunday, he spoke of the nation's "deep pain" caused by the "irreparable losses" in human lives.
An eruption at Fuego earlier this year in February sent ash 1.1 mile (1.7km) into the sky. A total of about 1.7 million people have been affected in four regions. This has turned out to be Guatemala's deadliest volcanic event since 1902 when an eruption of the Santa Maria volcano killed thousands of people.