In the Spring 2013 edition of the (free) Preparedness Review from Todd Sepulveda, founder of the Prepper Website and Education After the Collapse, leading preparedness authors and strategist share their insights, ideas and tips to help you make the most realistic plan possible.
The Preparedness Review, a semi-annual archiving project, is available in PDF format.
It can be downloaded, saved, printed and shared.
From the Editor:
Sometimes I feel like Galadriel from The Lord of the Rings Trilogy, "The world is changed. I feel it in the water. I feel it in the earth. I smell it in the air."

A lot has happened since November, 2012 when TPR1 was released. People are waking up to the idea that preparedness makes sense. And although people are starting to see the cracks gaping holes in our society, economy, etc…, one thing that will be more and more important to everyone who moves towards a preparedness, self-reliant lifestyle is the skill to put the best plans in place. We know that it doesn't come down to the best gear, it comes down to knowing how to do "the stuff."

This edition focuses on skills. Not every article is a skill article, but you will find that the majority of articles are focused on skills that you can utilize in your preparedness lifestyle.
Topics in this edition include:
The Ins and Outs of Food Storage – Chris Ray
Four Ways to Understand the Value of Silver – James Wesley Rawles
Becoming the Gray Man – Ray Gano
How to Make a Primitive Small Game Hunting Gig – Creek Stewart
Wound Care in the Wilderness – Dr. Joe Alton aka Dr. Bones
The Bug Out Bag Meal Plan – Tess Pennington
Are You Knot Ready – David Safewater
The Perfect Prepper Optic – Joe Nobody
11 Important Skills for Preppers – Gaye Levy
Pressure Canning: How to – Daisy Luther
How to Make Acorn Flour – Erichs
Supplement: Top 10 Things – Gary Griffin
Survival from Zero – John Beck
Don't Waste Your Time…There's Prepping to Do – Jeff "The Berkey Guy" Gleason
Concealed Carry – Training & Practice – Brandon
Making Bacon Off-Grid – Michael Bunker
Prepper Propane 101 – Chris Newman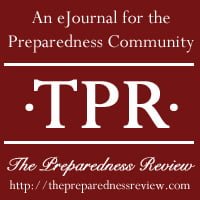 Download The Preparedness Review (Spring 2013)
Visit The Preparedness Review Web Site
Follow the Prepper Website for the best in preparedness and survival every day.