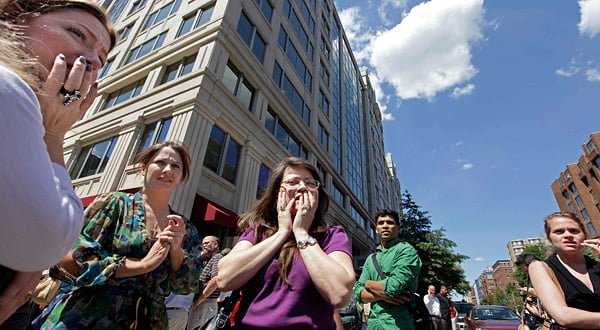 Office workers gathered in downtown Washington, Tuesday, after an earthquake shook the nation's capital. (Credit: NY Times)
Naturally occurring phenomena, HAARP, ex-planetary influenced geologic earth changes, coincidence or something else? Today's events will no doubt light up the internet with theories mainstream, conspiratorial and somewhere in between.
If it was California it wouldn't be a big deal.
But two quakes within hours of eachother have rocked Southern Colorado and the East coast with residents from DC to Canada feeling the effects of the latter:
East Coast:

A magnitude 5.9 earthquake struck the U.S. East Coast and Canada from Virginia to Toronto on Tuesday, shaking buildings and forcing evacuation of the Pentagon and U.S. Capitol.

There were no immediate reports of major damage or injuries from the quake, which the U.S. Geological Survey said was centered in Mineral, Virginia, between Charlottesville and Richmond. It was initially recorded at 5.8 magnitude.

Washington office workers scurried into the streets after the quake, which lasted for about five seconds and sent items crashing to the floor from store and office shelves.

Tremors shook New York City office buildings, prompting evacuations of courthouses, City Hall and halting work at the World Trade Center construction site, officials and witnesses said.

It was not immediately clear if there was any damage or injuries in New York, but fire department and police officials in Dutchess County, north of New York City, reported structural damage to some buildings.

Source: Reuters

….

Colorado:

The Colorado earthquake that hit on Monday night in a record for the state is still being felt. Aftershocks documented on Tuesday are making residents uncomfortable after being on solid ground for so long. The first earthquake was slightly before midnight on Monday and was one of the largest felt in the area for forty years. The 5.3 quake hit causing residents to panic and they are still uncomfortable.

The Colorado earthquake, near the New Mexico State line, had residents of both states calling the authorities to report damage and find out if it was actually an earthquake or something else. Residents of the small area haven't felt the effect of a rumble in so long it was usual. The area, not known for earthquakes, is a majestic part of the Southwest with tourists coming and going during the summer months.

Source: Gather
Disaster can strike at anytime, anywhere.
It's never a bad idea to carry a 72 hour emergency kit in your car, on your person, or to stow it in your work desk. The first thing you'd want to do after an emergency is to get home, but home may be thirty or miles away for some people. That's a long walk without food, water and a good pair of shoes.
If you're interested in building a kit, check out Tess Pennington's recommendations for a 72 Hour Emergency kit in which she covers (extensively) must have food, water, clothing, shelter, tools, and safety supplies that should be in every kit.
Hat tip to the many SHTFplan readers who sent us the reports from both quakes as they happened.