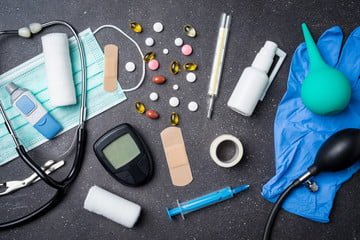 When it comes to making sure your medical bag has everything you might need in an emergency, sometimes all it takes is a quick reminder. If you have these items, that's great! But if not, consider sprucing up your emergency medical kit!
Last week, I created a list of 4 things many of us forget when we put our medical kits together.  But there's still a few more that bear mentioning, so I'm going to list 5 more that many of us may not have added just yet.
It's better to not need it and have it, than to need it and not have it.
TOURNIQUET
When adding a tourniquet to your medical supplies, make sure you first understand how to use it and when NOT to use it. The reason this wasn't on the first list was that you can fashion your own tourniquet with a stick and a rope.  But, having one and knowing how to use it will be superior to looking around for items to make into a tourniquet.
Hopefully, you will never need to use one of these. If you do, I would suggest the Combat Application Tourniquet (CAT tourniquet) and is made for a single-handed (meaning you could use this on yourself) application. The tourniquets run around $16-30 and aren't practical for a civilian to carry around in his pocket every day, but could be a vital addition to a prepper supply.
2. Antiseptic cream, Alcohol, and Hydrogen Peroxide
While most of us have some of this stuff, we probably don't have enough.  Peroxide does eventually expire and will amount to pretty much water, so check your supply regularly to ensure it's still good. Antiseptic creams and alcohol, on the other hand, will keep much longer especially if it remains unopened.  If your bottle of rubbing alcohol is left open, it will eventually evaporate, so just keep the lid on and sealed unless you experience an emergency. Antiseptic creams should be kept in a cool place and most manufacturers suggest replacing them once they've expired since they tend to lose "potency."
3.Personal Protection Equipment
In the event of an infectious disease outbreak, you'll want an N-100 face mask and some disposable latex gloves to prevent the infection from spreading to you especially if you're caring for a sick loved one.  The gloves will also be necessary when removing bodily fluids or helping treat wounds.
The place pathogens to enter the body most often is through the face. You have more naturally occurring openings in your skin, there in your face, than anywhere else in your body. That makes it necessary to protect your face from splashing blood and the droplets of sneezes. A medical face mask and simple plastic goggles are sufficient for this.
4. Elastic Bandages
Elastic bandages are useful for a slew of things, especially dealing with broken or sprained limbs. Keep an assortment of sizes on hand, so that you have the right size for every need. That brings us to number 5…
5. Splint
You can use a stick or something else, once again, however, having what you need readily available and knowing right where it is can save precious time. The SAM SPLINT is extremely moldable and soft enough to cut with ordinary household scissors. It can be used to splint any bone in the human body. A splint can be held in place with elastic bandages (from #4) if that extra security is needed. 
That's my list of another 5 medical supplies that often go overlooked.  Keep in mind, some of these you can improvise especially if you're on a budget.  But personally, I like having these items around and keeping them all with my medical duffle bag.  It just gives me that added peace of mind.