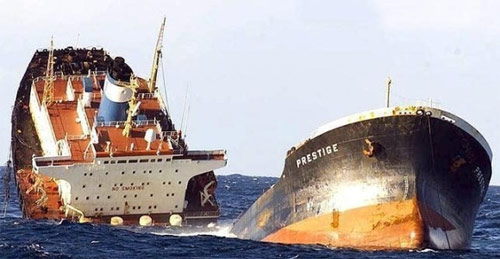 The price of oil has long been a key indicator of economic health and stability. And that index is tanking fast.
In the last few years, dramatic overproduction of oil has become a major tool of geopolitical conflict.
As prices have plummeted from $110/barrel to $40, Americans have tapped huge sources of fracking and flooded the market; OPEC and the Saudis have continued pumping despite dropping prices; Russia, dependent upon oil for its economy, has been under siege via sanctions and bottom-level prices; ISIS and other terror organizations are undercutting everyone with illegal oil sales and China remains large in the whole affair.
Proxy wars and threats and rumors of world war have accompanied bitter economic warfare over currencies and energy. Now, oil is at a record level of glut, and nearly every storage facility in the world is filled past capacity.
The London Telegraph reports:
The world is running out of storage facilities for surging supplies of oil and may soon exhaust tanker space offshore, raising the chances of a violent plunge in crude prices over coming weeks, experts have warned.

Goldman Sachs told clients that the increasing glut of oil on the global market […] could send prices plummeting to $20 a barrel, the so-called 'cash cost' that forces drillers to abandon production. "Risks of a sharp leg lower remain elevated," it said.

[…]

It is estimated that at least 100m barrels are now being stored on tankers offshore, waiting for better prices. A queue of 39 vessels carrying 28m barrels is laid up outside the Texas port of Galveston, while the Iranians have a further 30m barrels offshore ready to sell as soon as sanctions are lifted.

"The world is floating in oil, and commercial stocks on land are at a record high," said David Hufton, head of oil brokers PVM Group. "The numbers we are facing now are dreadful. Stocks have been building continuously for two years. This is unprecedented."
Already $40 barrels of oil has put major stresses on the world, and right now tankers filled will oil are lined up off the coast of Galveston, Texas, and will be waiting there indefinitely for many months. It is enough to drive oil and fracking firms out of business, and is currently resulting in a flood of layoffs – contributing to further joblessness and economic downturn, or perhaps outright disaster.
Hold on tight, things may be getting rocky indeed. Until then, enjoy the easy pump prices.
Read more:
Birth Pangs of the Next Depression: "If the Price of Oil Stays at This Level, We're Going to Have a Total Financial Nightmare…"
Pink Slips: 100,000 Jobs Wiped Out Amid Oil Price Collapse: "Spreading Like Cancer"
Oil Endgame? Pushing Point Where "Exporters No Longer Able to Fund Their Welfare States"
Oil Collapse: "This Could Cause The Most Destructive Economic Situation Since the Great Depression"