The following article has been generously contributed by Tess Pennington of Ready Nutrition.
Editor's Note: On a recent trip through Central Texas we noticed land that had been plush with hay, corn and vegetables is now completely barren. It's been so dry for the last six months in Texas that we've broken just about every record since the 1890's. One of the ranchers in the area we were visiting says that he is being forced to sell all 1500 head of cattle on his property due to lack of water and hay. There is simply no way for him to keep the herd alive unless conditions improve immediately. As Tess points out in the article below, the droughts sweeping not just Texas, but the rest of the country, are threatening to bring about a modern day dust bowl, and it just so happens to be at the worst possible time for the economy. Farmers and ranchers are facing the real possibility that they will not be able to pay for the loans they extended in the previous growing season, or even the mortgages on their homes because their revenue has, quite literally, dried up. In addition to the severe impact these droughts are having directly on the farming and ranching community, the macro impact on the entire system could lead to some serious problems for Americans who are already strained with ever increasing food and energy prices. In the short-term, we may see a break in meat prices as ranchers off-load cattle – but produce prices may not see any such drops. In the long-term, unless we see a return to normal conditions, all food prices will be adversely affected – and that's on top of rising prices due to the inflationary impact of an ever depreciating US dollar. The effects of these price rises will be felt across all industries, including everything from farm equipment sales and fertilizer, to traditionally non-farm industries as those rural Americans who depend on a normal climate for income are forced to cut discretionary spending in order to make ends meet.
While it can be argued that this drought is a cyclical event that may correct itself next year, we must consider the potential that the cycle is one in the same as that which was experienced during the Great Depression. Those droughts wrecked devastation across the country for nearly a decade. In normal times, we might be able to weather the storm. But these are certainly anything but normal, and as we have mentioned before, it will take only a single catalyst to set off the next round of collapse. The American consumer can't take much more pressure on their wallets. However, the current conditions indicate that this is exactly what is about to take place.
---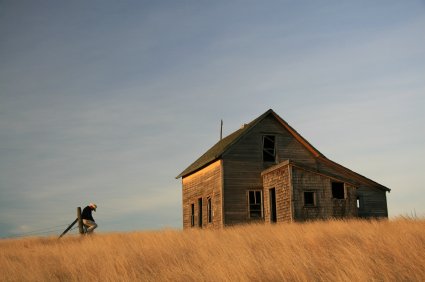 It is no secret that we are in one of the worst droughts of our lifetime. Could these weather conditions be the beginning of something much worse? Or even create a perfect storm that will lead to the beginning of the end of America's vitality?
To begin, farmers in Oklahoma and in Texas are already bracing themselves for what may be their largest TEOTWAWKI event ever experienced. These two states are the largest producers of hay and cattle in the United States.  However, due to persistent drought conditions plaguing this part of the country, the outcome has the two states seeing the smallest hay crop in over a century, thus creating a shortage of feed for livestock.  "Farms may harvest only one crop from alfalfa and Bermuda grass this year, compared with three normally", said Larry Redmon, a state forage specialist at Texas A&M University. (Source)
The Perfect Storm
The hay shortage is leading many cattle ranchers to sell off their herds prematurely to make any type of profit. Cattle that usually graze on fields through September or October, are instead being sold to feedlots, where they are confined in pens and eat mostly corn. Steven Kay, publisher for Cattle Buyers Weekly admits that beef producers are culling cows and young females, which means smaller supplies [of cattle] for the next two years or longer. Don Close, a market director with the Texas Cattle Feeders Association in Amarillo, TX agrees with these sentiments and adds that liquidating the cattle herds is "going to make a tight supply even tighter, as we get down the road."
Long-term drought conditions and hay shortages are not the only SHTF events farmers need to worry about. Fred Duvall, a cattle rancher for over 50 years suspects that if the drought continues for another three months it will finish off some cattle-raisers. "They'll have to completely sell out."  (Source)
The implications of these issues will be felt by the entire country through shortages of meat and surging prices for years to come. In fact, the USDA forecasts that retail-meat prices may increase this year as much as 7 percent and dairy products may jump 6 percent, more than the rate of overall food inflation at 3 percent to 4 percent.
A Modern Day Disaster
As much as we would like to hope and pray for the weather conditions to change, this could be the beginning of a long-term disaster that the entire country will feel. This devastation is very similar to the drought conditions experienced during the 1930's that brought about the devastating dust bowls which only intensified the suffering during the Great Depression.
Increasing food prices, food shortages, droughts, families losing their homes. Does any of this sound familiar? We all know that history can repeat itself. Whether or not we choose to see history repeating itself is the real question. However we decide to view this scenario, it is a modern day disaster that will be hard to come back from. Preparing for harder days to come is inevitable at this point, especially for those in the farming and cattle business.
---
This article has been contributed by Tess Pennington of Ready Nutrition. Subscribe to Tess' Get Prepped Weekly Newsletter for more emergency preparedness tips, homesteading ideas, and insights. Ready Nutrition and SHTFplan.com take your privacy very seriously and will not distribute or share your email address with other parties.
Error: Contact form not found.