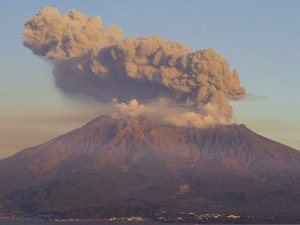 When Japan decided it was going to begin the process of restarting many of their mothballed nuclear reactors last week, there was certainly cause for alarm. After all, it's not unheard of for a nuclear reactor to run into problems shortly after being started. When Japan made this announcement, The World Nuclear Association noted that "Of 14 reactors that resumed operations after four years offline, all had emergency shutdowns and technical failures." So it's safe to say that when 25 Japanese plants applied for restart permits, the international community was a little worried.
Now it appears that some of those fears have been validated, though not in the way most people were expecting. The Sendai nuclear power plant was the first of those reactors to be restarted on Tuesday, an event which couldn't have come at a worst time. A volcano near the plant appears ready to blow its top.
Japan's weather agency on Saturday told thousands of residents near a southern city to prepare for a possible evacuation as it upgraded a volcanic eruption warning.

Officials raised their alert to its second-highest level after picking up increasing seismic activity around the volcano Sakurajima, which sits just off the coast of Kagoshima, a city of more than 600,000 people.

The volcano is about 50 kilometres (31 miles) from a nuclear reactor that was switched on this week, as Japan restarted its nuclear power programme following the 2011 Fukushima crisis when a quake-sparked tsunami set off reactor meltdowns at the now-crippled site.

Critics have said the restarted reactor at Sendai was still at risk from natural disasters.

"The possibility for a large-scale eruption has become extremely high for Sakurajima," the agency said, warning residents to exercise "strict caution" and prepare for a possible evacuation. The warning applies to a part of the island, which is home to more than 4,000 people.
If that's not a terrible omen for Japan's resurgent nuclear program, I don't know what is. Considering that the Japanese are so well-known for their superstitions, perhaps they should take a hint from this event, and rethink the idea of reopening dozens of nuclear power plants across one of the most seismic, and volcanically active regions on the planet.
Read more:
The Radiation Warnings You Won't Get from the Mainstream Propaganda Machine
Cover Up: "The Levels of Radiation In the Place Are Through the F*cking Roof"
Food Chain Catastrophe: Emergency Shut Down Of West Coast Fisheries: "Populations Have Crashed 91 Percent"