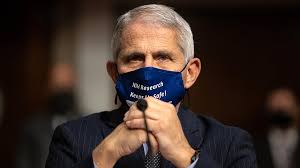 Infamous tyrant Dr. Anthony Fauci is telling the American public that they should not congregate and have "Super Bowl parties" this weekend because of the fears of COVID-19. Fauci is telling people to "lay low" and continue to give up time with family and friends to make him feel like he has some kind of power over others.
Fauci wants you to make sure only the members of your household watch the game with you.
"Enjoy the game, watch it on television, but do it with the immediate members of your family, the people in your household." -Dr. Anthony Fauci advises against gathering for #SuperBowl parties this weekend pic.twitter.com/d5ab4VNRUd

— TODAY (@TODAYshow) February 3, 2021
Even though this COVID-19 vaccine has proven to be more devastating to the population than actually getting COVID-19, Fauci needs you to avoid others and roll up your sleeve.  "You don't want parties with people that you haven't had much contact with," he added. "You just don't know if they're infected, so, as difficult as that is, at least this time around, just lay low and cool it."
Fauci acknowledged that the Super Bowl "is a big deal" in the United States to many, but he also said, "every time we do have something like this, there always is a spike, be it a holiday, Christmas, New Year's, Thanksgiving." Because of the scamdemic, only 22,000 people will be allowed at the actual NFL championship game on Sunday. There will also be mandatory masks and social distancing at the event, according to RT.  Tailgating parties at the stadium have been banned. This year's Super Bowl will be played in Tampa, Florida when the Tampa Bay Buccaneers will play against the Kansas City Chiefs.
People have already begun mocking the tyrants in government over their asinine rules and dictates:
Someone should ask Dr. Doom to give us the odds of having a packed stadium Super Bowl next year. Or in 2023. Or in 2024…. https://t.co/fKWxDXb5UL

— Laura Ingraham (@IngrahamAngle) February 3, 2021
Plus, Fauci has already admitted he's a liar and does so to push vaccines designed to damage people for Big Pharma.
In one of his many media appearances, Fauci also admitted to manipulating the numbers of vaccinations needed to achieve herd immunity but said it was for the common good, just like his initial opposition to face masks – which needed to be hoarded for medical workers due to "paucity," as he later told Congress.
"Of all tyrannies, a tyranny sincerely exercised for the good of its victims may be the most oppressive. It would be better to live under robber barons than under omnipotent moral busybodies. The robber baron's cruelty may sometimes sleep, his cupidity may at some point be satiated, but those who torment us for our own good will torment us without end for they do so with the approval of their own conscience." ― C. S. Lewis