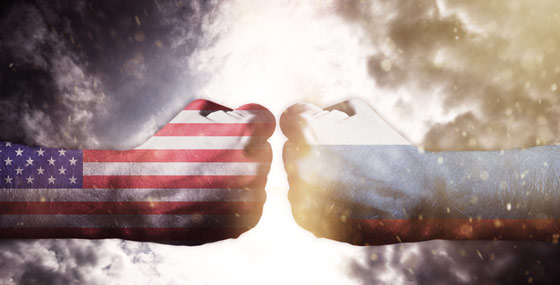 Before he left office, Barack Obama made every attempt he could to start a war with Russia.  But even though Donald Trump beat Hillary Clinton, Obama's policies continue threating to destroy what's left of the diplomatic relations with Russia.
Obama Secretly Set A War With Russia Into Action Before He Left Office
Russian Foreign Minister Sergey Lavrov said: "Congress, in my opinion, is doing everything to destroy our relations," continuing the policies of the Obama administration. Lavrov made the comments while visiting Washington. On Tuesday, he spent the day in meetings with Secretary of State Mike Pompeo at the State Department and Trump at the Oval Office. At a press conference later in the day, he was asked if Russia saw Trump as a reliable partner.
While Trump sincerely understands the benefits of good relations with Russia for both countries, Obama's policies are persisting, Lavrov said. "I can assure you that neither Nord Stream 2 nor Turk Stream will be halted," Lavrov told reporters of the pipelines the Russians intend to continue to make progress on. According to RT, the proposed new sanctions in the Senate, and the attempt to amend the must-pass NDAA military funding bill with measures against the two Russian-built natural gas pipelines in Europe.
Both pipelines are in the final stages of construction and will enable Russia to export billions of cubic meters of natural gas into Europe via Germany and Turkey, without having to worry about potential obstruction from Ukraine or Poland.
Countries have begun to repeatedly disobey U.S. sanctions as they become irrelevant. The U.S has lost its stranglehold on power over other countries and has increased its grip on those living within its borders.
Sanctions Lose Power: Russia's Economy Continues To Expand, Sanctions Irrelevant
Lavrov also mocked the media for creating a mountain out of a molehill with regards to his "secret" meeting with President Trump.
Just had a very good meeting with Foreign Minister Sergey Lavrov and representatives of Russia. Discussed many items including Trade, Iran, North Korea, INF Treaty, Nuclear Arms Control, and Election Meddling. Look forward to continuing our dialogue in the near future! pic.twitter.com/tHecH9a9ck

— Donald J. Trump (@realDonaldTrump) December 10, 2019
Congressman Adam Schiff (D-California), the House Democrats' point man for Trump impeachment, called the meeting a "success of Russian propaganda." But Lavrov fired back.  "There was no press at our meeting, American or Russian. If Schiff can describe the ministerial-level contacts normal to any country and my meeting with the president in such a way, then I believe that they will soon accuse our diplomats, just as they have our athletes, of doping and call for criminal punishment," Lavrov told reporters.
Please follow and like us: