220 Socialists That Need to Be Sent Home
Mac Slavo
March 22nd, 2010
SHTFplan.com
Comments (26)
Did your congressional representative vote for the health care bill?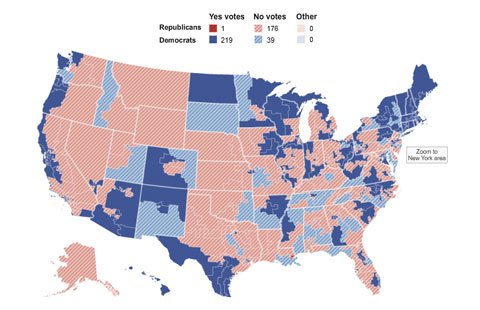 Click Here To View Interactive Version of Map
Complete Roll Call for House Vote 887 – H.R.3962
Related: One Sixth of Economy Nationalized: Here's What Happens Next

Please follow and like us:
President Trump is Breaking Down the Neck of the Federal Reserve!
He wants zero rates and QE4!
You must prepare for the financial reset
We are running out of time
Download the Ultimate Reset Guide Now!


Author: Mac Slavo
Views:
Date: March 22nd, 2010
Website: www.SHTFplan.com
Copyright Information: Copyright SHTFplan and Mac Slavo. This content may be freely reproduced in full or in part in digital form with full attribution to the author and a link to www.shtfplan.com. Please contact us for permission to reproduce this content in other media formats.
SHTFPLAN is a participant in the Amazon Services LLC Associates Program, an affiliate advertising program designed to provide a means for sites to earn advertising fees by advertising and linking to Amazon.com.